How to Remodel Your Home As a Couple Without a Single Fight.
(ThyBlackMan.com) Remodeling a home can be an exciting and rewarding experience but also a significant source of stress and tension for couples. Whether upgrading your kitchen or revamping your living room, disagreements over design choices, budgets, and timelines can quickly escalate into full-blown arguments.
However, with the right approach and mindset, it is possible to remodel your home as a couple without a single fight. In this post, we'll explore some practical tips and strategies to help you and your partner collaborate effectively, communicate clearly, and avoid unnecessary conflicts during a home remodeling.
1.   Set Clear Goals
Before you start any major remodeling work, it's essential to sit down with your partner and define precisely what you want to accomplish. Discuss the project's scope and ensure that both of you agree on the desired outcome. This will help ensure everyone is on the same page throughout the process and can act as a practical guide when making decisions. The goal-setting process should also include an agreement on budget and timeline. Determine how much you will spend and how long it will take to complete the project. Having a clear understanding of these parameters will help mitigate potential conflict down the road.
2.   Make Compromises
When remodeling your home, conflicts are almost inevitable. However, it's important to remember that some compromises and trade-offs may be necessary to resolve. As you discuss design elements, remember that you have different tastes and preferences. Rather than getting stuck on individual details, focus your energy on reaching an agreement that both of you can live with. Be willing to look for creative solutions, and don't be afraid to change your opinion if it means finding a compromise that works.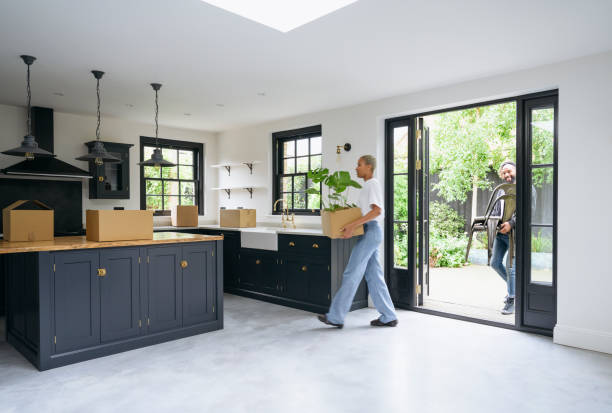 3.   Communicate Openly
Throughout the home remodeling process, you and your partner must communicate openly. Be sure to listen carefully and offer constructive feedback when making decisions. Feel free to express your opinion and be honest about what you like and don't like.
Giving each other enough space to make decisions independently is also essential. Respect one another's autonomy and compromise regarding design choices, budgets, and timelines. For instance, if you want solid timber entrance doors in Melbourne over uPVC doors, talk to your partner about why and how you can make it work within the budget. The key is to keep the lines of communication open and be willing to listen to one another's ideas.
4.   Take Breaks When Necessary
The remodeling process can be overwhelming, so taking breaks when necessary is important. If you start to feel stressed or overwhelmed, take a step back and give yourself some time away from the project. Spend some time together doing something other than remodeling and talk about something other than design elements, budgets, and timelines.
This will help keep things in perspective and ensure the remodeling process is enjoyable. At the same time, it will give you some much-needed breathing room to reassess your goals and objectives and reflect on what's been accomplished so far.
5.   Be Flexible
Any remodeling project is likely to involve unexpected delays and unforeseen challenges. As a result, it's essential to remain flexible throughout the process and be willing to adjust your plans accordingly. Don't get too attached to any particular outcome, and remember that some compromises and trade-offs may be necessary to resolve.
Above all else, focus on the end goal and remember that communication, compromise, and flexibility can help ensure a successful remodeling experience. With these tips in mind, you and your partner can work together to create a beautiful home that is uniquely yours.
Staff Writer; Mark Shaw