What is the punishment for vandalism.
(ThyBlackMan.com) According to the current legislation, the object of willful vandalism is public safety and public order. Public order is understood as social relations that ensure public peace, normal working conditions, rest and life of citizens, moral principles of members of society, normal interaction of people in the public sphere. Additional objects of vandalism are also public morality, desecration of buildings or other structures, damage to property on public transport or in other state places. Additional optional objects of vandalism can be the honor and own dignity of the person, as well as the business reputation of individuals or legal entities, for the protection of which you can contact a vandalism lawyer near me.
The subject of vandalism, committed in the form of damage, is any property on public transport or in other public places that do not have cultural or historical value. Damaged property means making property unusable (in whole or part) by damaging it, destroying it, or destroying it. Any buildings and structures, including monuments of history, culture, and architecture, except for grave structures and cemetery buildings, can be the subject of desecration.
It should be noted that the desecration of buildings or other structures consists in giving them or their parts a disfigured, indecent appearance or condition that offends public morality, significantly reducing the aesthetic properties of buildings or other structures in places accessible for viewing or visiting by a wide range of persons, expressed in changing their external and internal appearance by placing obscene inscriptions on them, cynical, obscene drawings and other images that offend public morality, violating the general appearance of these buildings or structures and causing significant damage to their aesthetic qualities.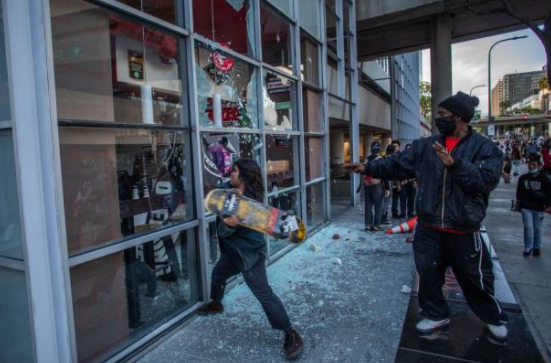 Desecration itself does not lead to a violation of the integrity of buildings or other structures, to their destruction, physical blemish, but can lead to their minor superficial damage, which can be eliminated without significant costs. A public place is understood as space, an area allocated for public use, any place free for access and viewing by a wide range of people. Private houses and separate apartments, household plots and summer cottages, natural areas are not public places. Individuals whose moral, religious, national feelings were offended by an act of vandalism, as well as individuals whose honor and dignity or business reputation was damaged by this act, may be recognized as victims of vandalism committed in the form of desecration of buildings or other structures and defended by vandalism attorney. Legal entities whose business reputation was damaged by an act of vandalism can also be victims of vandalism in this form and be protected by the vandalism lawyer. 
In general, vandalism is not a felony as a rule. The only exception is if the destruction damaging was applied to the property, which has a high value. Lawyer for a vandalism damage claim can help in such a situation. Most of the actions aimed to commit vandalism are qualified by the court as misdemeanors, which indicate that the most severe punishment for this crime is a penalty or imprisonment for up to 1 year. Among other things, general vandalism, which caused major damage to precious property, can be qualified as a crime that will entail criminal punishment. t is also possible that someone wants to cover vandalism. Convict in this crime criminal can be sentenced to imprisonment for more than a year, as well as considerable fines. The fines jail sentence is issued by a court decision and depends on the circumstances of the vandalism. Let's look at the main and most common types of punishment for elements vandalism and directly for vandalism, which is imposed in a sentence:
jail,

fines,

probation,

restitution,

community service.
Staff Writer; Greg Ford