Vickie Johnson in rare WNBA head coach position as a Black woman.
(ThyBlackMan.com) We are days away from the start of the Women's National Basketball Association celebrating its 25th season. There is a constant battle for respect and coverage for women's spectator sports in America and the WNBA is no different. Regardless of the naysayers, it is a positive that skilled and talented women are able to play professional basketball in America. One of the people who have been a significant part of the WNBA's history is current head coach of the Dallas Wings, Vickie Johnson. Johnson was a two-time All-Star after being drafted 12th by the New York Liberty in 1997 and also played for the WNBA's San Antonio Silver Stars during her playing career. Johnson's presence as a former WNBA player turned WNBA head coach is significant but it is even more significant and surprising that she is the only Black woman head coach in the 12-team WNBA.
Earlier this year, The Institute for Diversity and Ethics in Sport released the Complete 2020 Racial and Gender Report Card, which summarizes and analyzes individual 2020 report cards of MLS, the NFL, MLB and college sports. The WNBA and NBA were the only leagues to receive an A+ in the racial grade among the 2020 Racial and Gender Report Card series. It is even more notable that the WNBA was the only league measured to notch an increase in all three categories: racial, gender and overall. Given the amount of research and data that goes into compiling the annual Racial and Gender Report Cards, the WNBA's excellent grade is a big deal but there were still major differences between the racial makeup of the WNBA's players and its head coaches as 69.4% percent of WNBA players were Black and only 25% percent of WNBA head coaches were Black in 2020.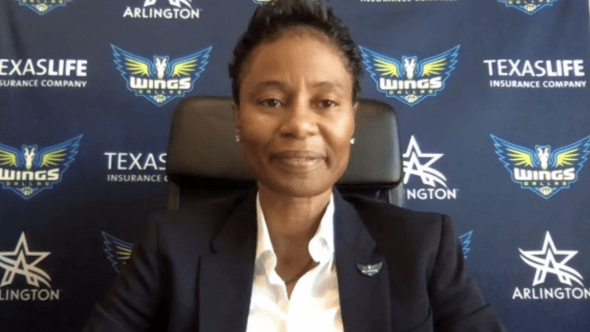 It is really eyebrow raising that a predominantly Black women's league in terms of players has only Vickie Johnson as its only Black female head coach. Women's college basketball has some extremely accomplished Black women leading programs like C. Vivian Stringer at Rutgers and Dawn Staley at South Carolina. Adia Barnes also made a name for herself during the Women's 2021 NCAA tournament in leading her alma mater, Arizona to a historic run. Historically, WNBA teams have not been as willing to hire Black women to lead their teams as a Black woman has never won the WNBA's Coach of the Year award in history since 1997. Surprisingly, two Black men have won the award but no Black women and much of that speaks to opportunities that Black women inherit as head coaches in the WNBA.
The Dallas Wings selected first and second in the 2021 WNBA Draft and it was the first time in league history that a team had both the first and second pick in a WNBA Draft. The Wings selected two post players, Texas post player Charli Collier with the number one overall pick and Awak Kuier of Finland with the second overall pick. While Vickie Johnson takes over a team that won only eight games last season, she has an exciting blend of young talent at her disposal. She has the opportunity to mold a budding group of basketball players and if she is given time to develop and mold them, Vickie Johnson could show that she can have as much success as a WNBA head coach as she did as a WNBA player.
Staff Writer; Mark Hines