UNC men's basketball Hubert Davis head coach hire a bigger deal than you realize.
(ThyBlackMan.com) It was an incredibly unique but enthralling pair of NCAA college basketball tournaments that sports fans got to watch over the past 30 days or so. Baylor won its first championship in men's program history over a previously undefeated Gonzaga team, Stanford's women basketball program won its first championship in nearly 30 years over upstart and conference foe Arizona, and the disparities between the treatment of female collegiate basketball programs and the male programs was highlighted in ugly fashion in some of the main memories and stories. Now the coaching carousel has begun as colleges and universities look for the right people to lead their college basketball programs as head coaches. After the unexpected retirement of Hall of Fame basketball coach Roy Williams, the University of North Carolina at Chapel Hill hired one of his former assistants, Hubert Davis, to be the head coach of the men's basketball program. This is significant news since Davis, a Black man, will be coaching one of the "blue bloods" of men's college basketball and he has made history as the first Black head coach in UNC men's basketball history.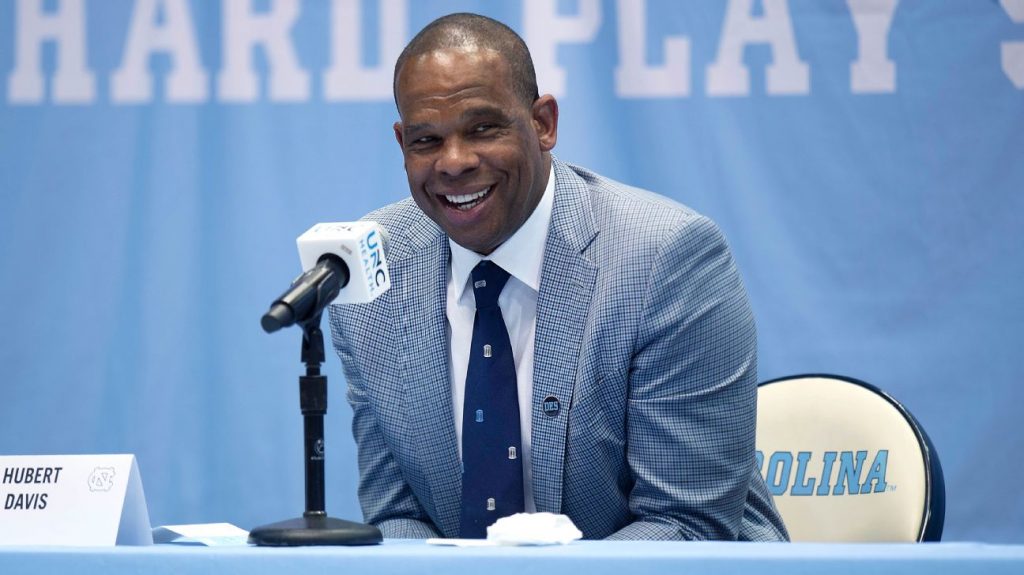 As reported in the FiveThirtyEight article, "Only 13 Black Coaches Led Major Men's Basketball Programs This Year. Two Face Off In The Sweet 16.", "Out of the 77 coaches to have led a team this season at the Power Six level, just 13 are Black". Despite most of the players in major college basketball schools and universities being Black, those numbers are highly disappointing regarding Black head coach representation. The article considers "Kansas, Kentucky, North Carolina or Duke" as the "blue bloods" of men's college basketball and it is special that Hubert Davis was hired to succeed his former Hall of Fame supervisor. Regarding being hired, Davis said in a statement released by the school, "I am honored and humbled to be given the opportunity to lead this program. I would not be here without Coach Dean Smith, Coach Bill Guthridge and Coach Roy Williams; they taught me so much — and I'm eager to walk their path in my shoes and with my personality. I also would not be here without Chancellor [Kevin] Guskiewicz and Bubba Cunningham. I appreciate their faith in me and I look forward to working closely with them."
When it comes to a "blue blood" program with prestige, history, and success in men's college basketball, Black men very rarely get an opportunity to be the head coach and lead a program. The last Black man to be hired as the head coach among the "Blue blood" schools of Kansas, North Carolina, Kentucky, and Duke was Tubby Smith to Kentucky for the 1997-98 men's college basketball season. "Blue blood" programs are expected to compete for Final Four berths and national championships on a "regular" basis so the expectations are high but the resources at those schools are high as well.
Davis' hire was a bit surprising since Williams' tenure was very successful at North Carolina with three national titles in his 18 years there and there were whispers of UNC hiring an experienced head coach like Virginia's Tony Bennett or Chicago Bulls' Billy Donovan. Hubert Davis has never been a head coach and getting a job as good as UNC is extremely rare for any white first-time head coach, let alone a Black first-time head coach. Luckily, Davis' hire has been embraced by many UNC alums since Davis is a former UNC player. Hubert Davis is under pressure taking over a big-time men's college basketball program but maybe he can be as successful as another Black first-time head coach hired to coach his alma mater and a major college athletics program, Juwan Howard at Michigan in 2019.
Staff Writer; Mark Hines