Thoughts on Lamar Jackson's MVP-like season.
(ThyBlackMan.com) When Lamar Jackson was drafted with the last pick of the first round in 2018, I initially thought very low of his ceiling. The Baltimore Ravens couldn't pass on a talent like Jackson, so I sort of equated him to the Denver Broncos drafting Tim Tebow: a great utility package player, but someone most importantly, the fans would want to see-eventually. A year and a half later, boy was I wrong.
It was fascinating to watch Jackson absolutely shred the Los Angeles Rams this past Monday. Outside of throwing for five touchdowns, he accounted for 264 yards of total offense and connected on 15 of his 20 throws. The Ravens with Jackson leading made the Rams look incompetent with their punishing run attack.
Lamar Jackson is getting exactly what Tim Tebow should have gotten, and what Michael Vick was a decade and a half without: a system that would adapt to their dynamic talent, and not make them an extension of their team's playbook. Ravens offensive coordinator Greg Roman has tailored the Ravens offensive attack squarely around Jackson and his skillset. The Ravens have become a run-first, power running team, centered around the read option between Jackson and running back Mark Ingram.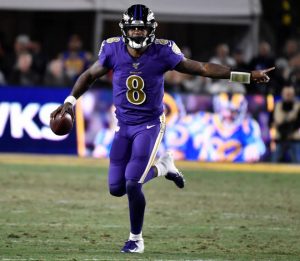 Jackson is presented with three options. He can either A) read the defense and give the ball to Ingram, as the defense is anticipating a Jackson run. B) keep the ball, as his speed leaves defenders in the dust while the other half collapse anticipating Ingram up the middle. Or C) do neither, leaving the receivers open. The threat of Jackson as a runner and passer is the perfect storm for the analytically-driven NFL today. College offenses in the 2010s evolved into a precision game, and the NFL finally decided to latch on. Kudos to Greg Roman for taking a talent such as Jackson and adapting to his skillset instead of the other way around.
Because usually, players of the athletic talent such as Jackson gets pigeonholed to fit an NFL pro-style system. While the elements and principles of a pro-style offense are still key to a successful offense, there are some players who simply don't fit the mold. Jackson would be an above-average at best quarterback if he went to New England. Instead, he's in Baltimore tearing up the league, making defensive coordinators work overtime to counter his outstanding play.
So far, Jackson has passed for 2427 yards, 24 touchdowns to only five interceptions. And this is on 66.9 percent of his passes. On the ground, Jackson has 876 yards rushing to six touchdowns. If he keeps this up, Jackson will achieve well over 1200 yards rushing-an NFL record for quarterbacks. He could join Cam Newton as the second quarterback to achieve at least 30 passing touchdowns and 10 rushing touchdowns. And lastly, he could be the first player ever with 3000 yards passing and 1000 yards rushing.
Jackson is in the right position, just like Patrick Mahomes is with Kansas City. With Mahomes and Deshaun Watson, the NFL is looking at a new wave of generational NFL talent. But this year, Jackson is truly standing out from his peers and is looking like the NFL's MVP
Music Editor; Brad Washington
Also connect with this brother through Twitter; http://twitter.com/theGURO15.