5 Business Ideas You Can Start at Home.
(ThyBlackMan.com) You might be wondering how to earn more apart from your 9-5 work. Maybe you're someone who's planning to build a home business but wants to start with few side hustles first. Or are you a full-time mom who wants to earn extra while taking care of your husband and kids? 
The continuous advancement of technology makes it easier and more convenient to earn money from home. With an effective plan, together with your patience and determination, you will surely be able to build a successful home business. 
Here are 5 business ideas you can start at the convenience of your home:
Sell DIY crafts or baked goodies. 
If you're a full-time mom who loves to bake cookies, cupcakes, and other yummy treats for your family, starting a home-based baking business may be a great option for you. Using your expertise in baking, you may consider doing a batch of goodies and sell it to your husband's colleagues, your friends, or at your kid's school. Place it in a jar or box and tie a ribbon on it to make it more appealing. 
Or if you are fond of creating DIY arts and crafts, you may customize a few items for selling and use a nice packaging for it. If you're into recycling or reusing stuff, you may wrap it in a magazine or a brown paper bag for a more vintage look. 
You may also create a Facebook page or Instagram account to reach out to more customers and build your brand online. 
Freelance Writing
Freelance writing has been one of the most in-demand jobs you can find online apart from technical jobs such as software developers and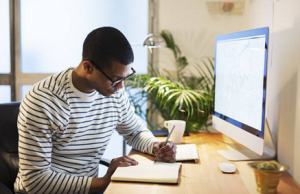 web designers. If you like playing with words and have a passion for writing, you may look for freelance writing jobs or reach out to potential clients that accept writing services. However, with the great numbers of competitors online, you have to be patient and look for ways to improve your skills. 
Signing up on freelance websites and updating your credentials will eventually give you greater chances of finding clients for your services. 
Start a blog
According to a study, the average person spends 24 hours on the internet per week. This is why a lot of individuals and organizations set up their own website to connect with other people. Before starting a blog, you need to identify the niche you are going to focus on. Do you love to travel? Then build a travel blog. If you are into fashion and beauty, create a blog that focuses on those topics. You have to make sure that you can directly relate to the type of niche you will choose. Blogging will require you to post articles every now and then. Yes, you need to keep your blog active as this helps you retain readers and build your rank on Google.
Create a Youtube channel
If expressing yourself in front of a camera is a fun thing for you, then video blogging might be best for you. We are all aware that Youtube sensations nowadays earn a lot by simply creating content and sharing it online. As mentioned earlier, you also have to find the niche that best fits you. If you prefer it to be a personal vlog in which you can do anything under the sun, that will also be great. You can create video content such as a Mukbang challenge, makeup tutorial, or a tour on your most recent vacation. Just capture the moments, practice your editing skills and have fun!
Online English Tutor
There are lots of countries that need English tutors. If you have excellent skills in teaching and communicating in English, and has a lot of patience towards kids, you can opt to apply as an online English tutor. You may do this on your preferred schedule and have an option of the number of hours you want to work. Just make sure you have a speed wifi connection, a laptop, a USB microphone and a soundproof room for you to effectively do this task. Take note that there are some who require at least a bachelor's degree in Education.
Check more ideas on the hot new businesses you can start at home today!
Staff Writer; Ellie Carter