How African-American Male Teachers Can Reshape Education Systems Across the Country.
(ThyBlackMan.com) As a successful Black freelance journalist, entreprenuer and author; I am proud to say I left a lucrative job in the private sector; making twice the take-home pay, to become a teacher in the Chicago Public Schools. Sometimes you have to just…give back!
The lack of representation in elementary school classrooms
Across America, there is a lack of black male teachers in elementary schools, and that shortage can have ripple effects on the success of young black students. Without such role models, the trappings of racism in America can more easily hinder the education of male students of color.
An article for the Chicago Tribune cites that, "Nationwide, 2 percent of public school teachers are African-American males and 2 percent are Hispanic males, while students of color make up about half the nation's public school enrollment from pre-kindergarten to 12th grade."
That statistic is striking—demonstrating in clear terms the lack of male teachers of color. And this disparity is far more than a need for diversity—it also affects the educational outcomes of children across the country.
How black male teachers affect the outcomes of their students
Several studies have demonstrated the benefit of black male teachers on their pupils. The numbers are clear—exposure to teachers of color is an overwhelmingly positive indicator of future success for black students. However, you can't success if you don't have the numbers: For example; according to the data/fact driven "Illinois Report Card" the state of Illinois had a total of 127,238 teachers; of that number the state recorded a total of about 575 Black male Elementary teachers in the year of 2018, the whole state… in total…shameful!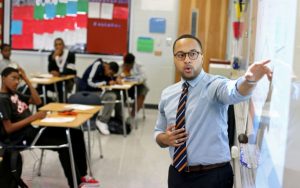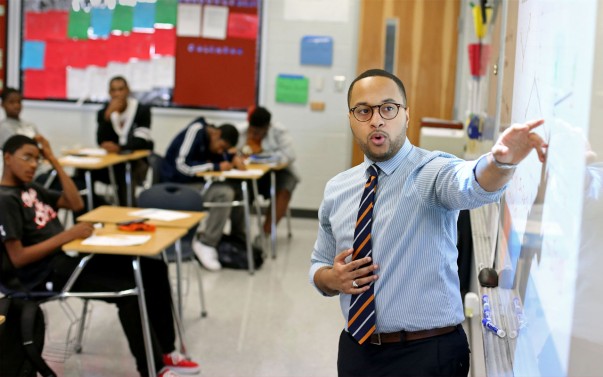 That same Chicago Tribune article referenced earlier cites a 2016 study which found that, "Black students were three times more likely to be assigned to gifted programs when taught by a black teacher than a non-black teacher." This is a clear indication that teachers of color can both motivate and encourage their students to go after scholarly pursuits.
And an article for KIPP.org quotes Professor David Kretschmer: "Kids do better when they're taught by teachers who look like them. That's just the way it is." Just like watching superhero movies can shape the dreams and ambitions of impressionable young children, seeing black men lead classrooms can inspire kids to follow in their footsteps.
On a personal note: Having completed graduate studies at DePaul University with a major in Curriculum Development; specializing in Economics Education; this writer plied his new profession with the Chicago Public Schools as a teacher at Sumner Elementary on Chicago's west side.
Expanding the idea of a "strong black man" to include being an elementary school teacher shows children how studying hard can lead to a fulfilling career in education.
KIPP.org also cites a 2017 study which found that, "Having just one black teacher in elementary school significantly increased a low-income black student's likelihood of graduating from high school and considering college." Such statistics show how black male teachers do much more than serve as role models for future young educators—they also help students thrive in school in general.
So, the consensus across the board has been that black male teachers enrich the lives of their students—their teaching serves as a strong example for children.
The importance of "representation" goes far beyond the media. Not only do movies, TV shows, and newspapers need to highlight more positive narratives about black men, but efforts should also be made to increase children's exposure to strong role models they can relate to in their everyday lives.
And how can we work towards that mission? By recruiting and uplifting future teachers of color.
Two great initiatives working to tackle this issue head-on
There are many incredible projects which specifically work to increase the number of black male teachers in public elementary schools of Urban America.
In California, there's F2MTC (or the Future Minority Male Teachers Across California Project). KIPP.org notes that F2MTC works to "recruit, prepare and retain male teachers of color at the elementary level."
And perhaps the most well-known initiative is based in Illinois: "Call Me MISTER" (or Mentors Instructing Students Toward Effective Role Models).
The Chicago Tribune explains that the program offers full scholarships, academic mentoring, and job placement assistance for young students of color. The article cites director Ray Jones' description that the initiative seeks to "break a tragic national pattern of pathology relating to the young Black male in America."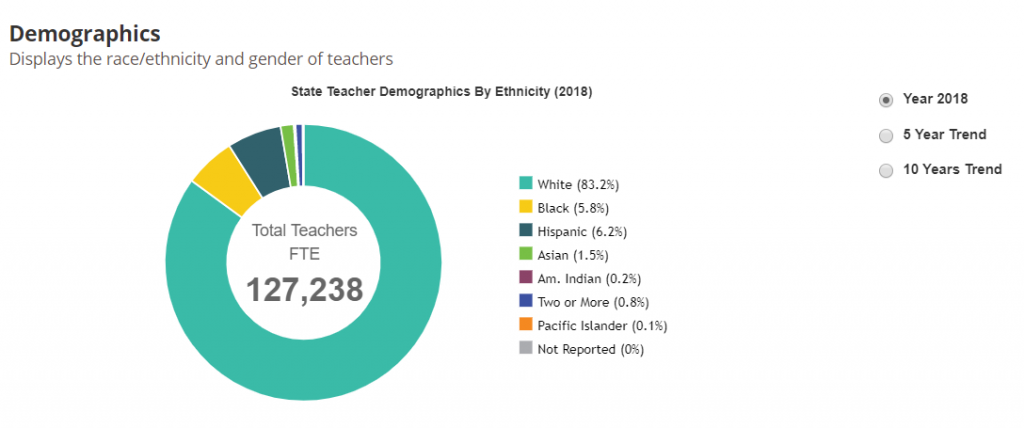 There's no question that young black men in America face an uphill battle towards success. Whether it's the prison-industrial complex, widespread police brutality, or plain old "common casual racism", students of color have a lifetime of discrimination to fight against. But that doesn't have to be a recipe for distress—with the help of black male teachers, America as a whole can seek to transform the lives of students of color.
Initiatives like F2MTC and Call Me MISTER are radically transforming public education systems by uplifting the potential of young black men pursuing careers as teachers. Faced with the reality of widespread racism and apathy, these organizations are taking a real problem and presenting an effective solution.
Black male teachers are uniquely positioned to help young students of color—their own lived experience serves as a reliable source of relatability and credibility. They know first-hand how hard it can be to thrive within a society that seems to be stacked against you. And most importantly, they demonstrate how young black men can use education to further their career prospects—opening the door(s) to a vast world of possibilities. In this writers case I started a 501 © 3 not for profit mentoring program called From Boys to Men Network foundation (FBTM) In my hometown of Chicago; shortly after completing my student teaching at DePaul University. The FBTM program seeks to improve the quality of life for school-age boys on Chicago's west side. The program will celebrate 28 years of progress and over 2,000 changed for the better among its members in the fall of 2019.
Conclusion
While the current state of affairs in America may seem bleak—with Donald Trump at the helm in government, we seem to have a long way to go to correct issues accentuated by the educational "achievement gap," as some specialist call it. With suddenly-emboldened white supremacists, and widespread racism—it's important not to lose hope. These struggles and hardships are an unfair burden placed on young men of color, but there is much that can still be done. This writer's case is the exception that proves the rule: Mentoring and attention to the needs of Black males with a view to success is a formula that must be replicated.
By encouraging and supporting young black men to pursue careers in public education, we can actively work to inspire entire generations of students. A child's formative years are crucial in their development, so having strong role models starting in elementary school can be a substantial help.
The first step to having more Black male teachers is retention of the existing core; while developing school initiatives of professional mentorship that are welcoming and sustainable for Black male teachers throughout the Urban Centers of the United States.
As a Black male; who just happened to be an educator, I think we can all look back and remember at least one teacher who drastically shaped our lives—someone who offered guidance, encouragement, and motivation to pursue our hopes, dreams and aspirations. The empirical research and data presented by any number of creditable sources proves that the more men of color who are in those powerful roles, the better; not just for African Americans but for all of mankind; in all walks of life!
Staff Writer; Stanley G. Buford
Feel free to connect with this brother via Twitter; Stanley G. and also facebook; http://www.facebook.com/sgbuford.