Who is the next great black pitcher in baseball?
(ThyBlackMan.com) Major League Baseball had their 90th MLB All-Star Game on July 9, 2019 and featured solid pitching from a number of different pitchers. In the season of the home run, the good pitching during this year's Midsummer Classic was noticeable. It was also noticeable that among the 31 pitchers on the rosters of both the American League and National League All-Star teams that only one was an African-American pitcher, Marcus Stroman of the Toronto Blue Jays. Surprisingly, that total of one is the same amount of All-Star pitchers as Japan had. Perhaps the greatest black pitcher in Major League Baseball history and one of the best pitchers in baseball history, Bob Gibson, is currently fighting health issues. Given Major League Baseball's history of terrific black pitchers like Gibson, Vida Blue, and Fergie Jenkins, it is fair to wonder who will be the next great, Hall of Fame worthy black pitcher in Major League Baseball?
Acknowledging the success of MLB All-Star pitcher Marcus Stroman as the only black All-Star pitcher is important. He is not a big pitcher who has battled some injuries in the past but made onto the All-Star team. His size is directly the opposite of arguably the most prominent black pitcher of the last 20 years, CC Sabathia of the New York Yankees. Sabathia's massive figure has often resembled that of an NFL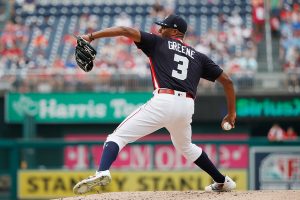 offensive lineman than a longtime starting pitcher in Major League Baseball. It was Sabathia who achieved an incredible milestone earlier this MLB season when he recorded the 3,000 strikeout of his career and became only the third left-handed pitcher behind Randy Johnson and Steve Carlton to accomplish that feat. Sabathia's size and style with the unconventional way he wears his fitted hat and baseball jersey on the mound was un-conforming to much of Major League Baseball but gives him the respect of many black sports fans. It is almost a lock that CC Sabathia will be in the Baseball Hall of Fame shortly after he retires, leaving a void for the next great black pitcher to try to fill.
It is Boston Red Sox pitcher David Price who is perhaps the most accomplished active black pitcher in Major League Baseball after CC Sabathia. He has Cy Young credentials and has been among the top pitchers for multiple seasons but his postseason struggles were well-documented prior to last season and might negatively affect his chances of going into the Hall of Fame. It is likely that the next superstar black pitcher is a young prospect yet to make his mark. Top prospects like Hunter Greene of the Cincinnati Reds and Justin Dunn of the Seattle Mariners might be the next headliners among black pitching stars for Major League Baseball.
It is possible that there is a lack of black star pitchers currently within Major League Baseball because of the popularity of the National Football League. The NFL is the number one professional sport in America and there are as many young black quarterback talents as ever before. The NFL Most Valuable Player of the 2018 NFL season, Kansas City's Patrick Mahomes, has a father who played Major League Baseball and fellow black starting quarterbacks like the Seahawks' Russell Wilson and Buccaneers' Jameis Winston also have baseball backgrounds. Many sports fans are well aware of the story of the number one pick of the 2019 NFL Draft, Kyler Murray, picking football over baseball. Not all of those guys were pitchers when they played baseball but their talents for throwing a football lend themselves to being potential baseball pitching talents if they had spent more time at that craft.
Staff Writer; Mark Hines