Fight for Your Family.
(ThyBlackMan.com) So many black people are slowly becoming more comfortable in their own skin. They are embracing who they are in a very natural way. It doesn't mean letting go of diversity in ones look and life, but so many are coming to terms with the strength and beauty that is them. Black love is more of a discussion and celebration. We are seeing more "black girl magic", and "black boy joy" acknowledged and uplifted. Given all the suffering and trauma our people can face on a day to day basis by just living life having these positive spaces are important. However, we are still learning how to bring the family together and keep it together. We are still trying to get work through past drama and trauma so that we can love effectively long term. This can affect one's ability to more so stay married then get married. As our people being to talk about what it means to save communities that exist and build new ones, we must tackle the issue of the black family. Its no longer enough just to love, we must love and fight to keep that love positive. It is time we fight for our family, and for true love and protection in that family.
Our children deserve loving environments, wholesome interactions, meaningful education, fierce protection, and an unconditional love that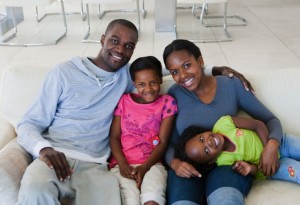 can overpower the negativity and hate they will face in the world. How can we give them that, as adults, if we are not willing to heal and fight for our family? It is so easy to try to justify why, outside of abuse, a marriage is headed to divorce court. You don't need a divorce to co-parent…that's what you were doing, or should have been doing, in the home. It is important for us to take the time to understand the dynamics that did not work in the families we came from so that we can seek healing to create stronger families. We must understand that love is protection, its standing in the gap for what is right, its being hands on when needed, and having patience that can will our babies to greatness. Yes, the focus is the children because we need them. They can empower us to be better versions of ourselves every time we look at them. So many parents, and marriages have been saved by the children. Yes, kids (no matter your relationship to them) can save the family if we value the treasure that we are, and the treasure that has become them through us.
Fighting for family means sacrifice, and it can be uncomfortable. For some it means stopping the cycle of physical and sexual abuse in the family by finally standing up to the abuser and protecting the abused. Its time to throw the rug completely out the house so there can be no sweeping under such of heinous transgressions. Fighting for the family could mean partners learning to communicate respectfully and pouring love into one another verses tearing each other down. It could mean telling your parents and/or siblings they are not allowed to disrespect your partner, nor your children. Fighting for the family is working through disagreements, and they will happen, verses being quick to throw one's marriage and family dynamic in the trash. Fighting for your family could mean being there for ones that are ill or supporting your partner as they support a family member with chronic illness.
Its coming together as a family to talk, share, pray, meditate, and uplift one another. It means getting up and showing up at school to find out what's going on with your children verses waiting for the school to contact you. Its teaming up with your partner and family to work on building wealth for the family that is material, emotional and physical. Our children are watching, and they will learn from us how to sustain family relationships; it's important that they see a positively functioning village. There are so many ways by which we can fight for our family, and this is a fight it takes a village to win. We can not afford to lose.
As a people we need one another, so we need family. As our families grow villages and communities strengthen for our people. When this happens, we see more black love and greater magic and joy from our children. We cannot survive and function positively without family. If one thinks we can all they have to do is look at the amount of hurt and despair we've seen amongst our people; simply access the children and one would understand the power of family, and the detriment of its absence. This won't happen overnight, but it's up to every family to work and fight for the love of their household if we ever wish to truly fight for community. It all begins at home.
Staff Writer; Christian Starr
May connect with this sister over at Facebook; https://www.facebook.com/christian.pierre.9809 and also Twitter; http://twitter.com/MrzZeta.