Startup without a Portfolio? Creative Ways to Grow Your New Business.
(ThyBlackMan.com) Getting clients without a portfolio is tough. It clearly shows that you have no job experience, but it doesn't mean that you don't have the right skills. You are unable to build a portfolio because you don't have clients. Your only problem is fear: you're worried no client would want to work with you if you don't have a portfolio. Almost every business has gone through this phase and it will pass. Here's how startups and freelancers can get clients without a portfolio.
Start local
Depending on your business idea, you should look for potential customers in your local area. You may be having ideas for selling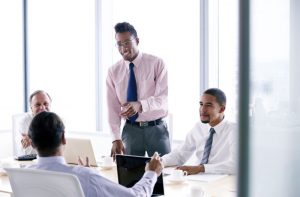 your services overseas, but for a quick start, sell your services locally. Distribute flyers, send emails to local business owners and if possible, start calling them or visiting their office. This approach shows that you're in need of the project and you will be there if they want to meet you whenever the need arises. That way, you can show that you're not some scammer from a different country or state. If you can't at least showcase the human side of your company.
Build a strong network and strengthen trust
Visit places where your target audience hangs out. It can be a seminar, a workshop or some events. If you want to go online, join communities or forums and build credibility by writing answers or providing information on relevant subjects. You don't need to advertise your services all the time on message boards. Focus on strengthening trust and building a strong network first.
Keep some sample projects ready
You can always have something to showcase. If you're in designing or programming field, work on small projects of your own and add them to your portfolio. Make sure you are transparent in client meetings and whatever you showcase your work, your portfolio should clearly state that the work you're presenting is developed for a purpose – getting clients for your new business. Don't mislead clients, just be real.
Be visible
Small or big, companies these days check social media profiles of people they are hiring for a job. The same is applicable if they are hiring a freelancer. So, even if you don't have recommendations and references on your social media profiles, start filling your social media profile with the knowledge and information you have about your field. If you can communicate effectively, it will certainly catch the attention of people or at least they will be interested in finding more about what you can do for them.
Learn the basics of marketing
In the long run, you may not be able to handle the marketing for your business, but since you've just started your business, learning the basics of offline and online marketing will help. Choose the right platform to showcase the benefits and features of your products and services. Determine the tone and voice of your brand message depending on the common interests of your target audience. That way, you can communicate better.
Educate and convert
Once you're done learning the basics of marketing and have set up your first marketing campaign (offline or online), it's time to educate your target audience. Now when you have chosen the right platforms, content formats for your campaign, start educating people about what you do and how it can help them. Create multiple ad copies and get them reviewed by your friends and entrepreneurs. For this part, I recommend joining a startup and entrepreneurship-based groups on social media. Remember that information attracts people and a clear idea of benefits converts them into customers.
Define a process
As soon as you hit the goal for the first time, you should be ready with a clear process for project management. From budget to timeline and work involved in the process, everything must be communicated clearly. With that said, you should also keep everything in writing so that you can always refer to the emails and files in case if something goes against the plan. The corporate world is full of good and bad workers and employers, so always be ready with a documented strategy.
All the ideas mentioned above should work for almost every new entrepreneur and marketer, but if you are still not able to get clients, review your services and products honestly and make improvements if you feel that something is missing. If everything looks perfect, hire a skilled marketer on a profit-sharing basis as it will not put a burden on your growing business.
Staff Writer; Jay Brown
Business? Gaming? Health? Tech? and more… Send Tips To; JayBrown@ThyBlackMan.com.