Summer Weddings: Do's and Don'ts.
(ThyBlackMan.com) Summer is one of the best times of the year to get married. The sun is shining, the flowers are in bloom, and there are a number of different wedding venues that are appropriate for the season, including beaches, gardens, and hotel ballrooms. Most importantly, you are marrying the love of your life to whom you proposed with a dazzling diamond ring in the most romantic way.
If you're planning a summer wedding with your soon to be wife, make sure it goes off without a hitch by following these do's and don'ts:
Do: Be bold with your floral arrangements.
Roses, tulips, and lilies are some of the most popular flowers used in weddings, but if you're having a summer wedding, feel free to incorporate bolder choices. Look for tropical flowers such as birds of paradise, anthurium, and dendrobium orchids in bright shades of blue, yellow, orange, and purple. By using exotic flowers, you can inject the fun and vibrant spirit of summer into your wedding.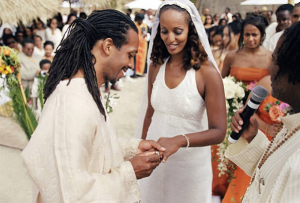 Don't: Forget the Save the Dates.
Some couples choose not to send Save the Dates in order to save money, but this is not a good idea if you're planning a summer wedding. Summer is the time of year where kids are out of school and families take long vacations. If you want to ensure your loved ones are able to attend your wedding, let them know in advance with a Save the Date invitation.
Do: Provide relief from the heat.
If part or all of your wedding is outdoors, make sure that you have a space where guests can go to escape the heat. This space should be indoors in an area that is air conditioned, and if you can, provide bottled water for your guests as well. If possible, try to start your ceremony later in the day so guests don't have to be outdoors during the hottest summer hours.
Don't: Make everyone wear formal attire.
Guests don't want to wear floor-length gowns and formal suits when it's 100 degrees outside, so allow them to wear more casual clothing to your summer wedding. This doesn't mean they should show up in jeans and a t-shirt, but you should allow them to wear black tie optional or dressy casual attire so they can stay comfortable while celebrating your big day.
Do: Serve light food.
Eating heavy food while it's hot outside can make people feel tired and uncomfortable. Instead of serving pastas, baked potatoes, and cheesecake, offer your guests fruit or meat skewers, frozen cocktails, and light, grilled foods. For dessert, stick to the lighter menu by serving fruit tarts or small, bite-sized pastries. This light menu will help your guests stay satisfied and energized so they can dance the night away!
Don't: Take pictures in the sun.
Be sure to consult with your photographer prior to the wedding to discuss the issue of lighting. Days are longer during the summer, so you will most likely have to work around a bright sun while taking photos with your bridesmaids, groomsmen, and family members. Soft lighting is more appropriate for wedding photos than the harsh light of the sun, plus you may end up squinting in all of your photos if you're struggling to keep your eyes open in the light. Because of this, it's important to work with a photographer who knows where you can go to escape the sunlight and take high quality photos.
Planning a summer wedding is about more than deciding what you want for your big day. Brides and grooms should also focus on keeping their guests comfortable and happy. With these tips, everyone will be able to enjoy the summer wedding of your dreams!
Staff Writer; Roy Jacobs