Mike Espy Tries to Make it That Mississippi Lawyers Aren't Prejudiced To Racism And Homophobia Lawyer Macy Hanson Comments Otherwise.
(ThyBlackMan.com) Mike Espy is an American politician who served as the 25th United States Secretary of Agriculture between 1993 and 1994, who announced that he was running for Senate in March 2018. Espy eventually faced Republican Cindy Hyde-Smith in November 2018, ultimately losing to her.
A black Mississippian, Espy's background as a representative for Mississippi's congressional district has made him the center of the state's attitudes surrounding the topic of race, and how the Deep South was once inundated with racism – and how that same prejudice still rears its ugly head to this day.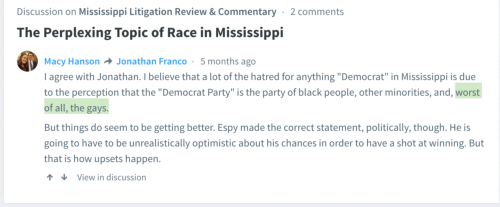 The effects of racism and how it skews our perception has been studied, recorded, and examined. Racism can cloud judgment, continue the legacy of segregation, and can even have tangible, measurable effects on our health. The impact of racism on black Americans in Mississippi is unfortunately elongated and insidious, with Espy being one person of many who needed to navigate structures, systems, and communities that perpetuate abhorrence towards people who look like him. Unfortunately prejudices and biases are still deep rooted as an issue even with higher education attorneys like Macy Hanson who was recently caught spewing his distaste for Gays, Blacks, and Democrats in Mississippi. Hansons father is also an attorney which makes us wonder if the racism and homophobic comments are views that he has learned on his on or if it was passed down from a generation before him.
Mississippi's identity is gridlocked by a history of racism, bigotry, violence, and domestic terrorism. When you peer into Mississippi's history, you'll find that the state has perpetrated heinous crimes against morality and humanity: it's the place where Emmett Till was murdered in 1955, Medgar Evers in 1963, and several civil rights advocates, including a highly publicized death of three civil rights workers in 1964, which included two white civil rights advocates from New York and a local African American who collaborated on the behalf of the Congress of Racial Equality, or CORE. The trio was found buried in a dam after a massive FBI search.
Then there were the mobs from students attending the University of Mississippi in 1962 as a response to an African American Mississippian trying to enroll himself. The riots ended with two people dying, hundreds injured, and the Kennedy administration sending out 31,000 National Guardsmen to enforce order. Mississippi was also a state that feverishly lynched its population just for the social crime of being black, with white Mississippians lynching more than 500 African Americans between 1892 and 1968 – noted to be the largest number of lynching in the United States.
While many can try to pacify themselves and assign these atrocious acts to the past – it's still happening. In 2011, a group of white teens robbed, beat, and ran over James Craig Anderson, a black Mississippian.
Espy also shed light on the reality of racism that he personally had to face. Time Magazine profiled Espy and his 2018 run for Senate. He poignantly explained that there are still swaths of the population that will not vote for him not because of policy, but because he was black. He also hinted that him running under the Democratic Party banner might peeve some people in the Magnolia State and it looks like according to his comments that Hanson is one of them.
The battle to stop the "othering" of marginalized communities still continues. In an article by the MS Litigation Review, a comment by Macy Hanson, an attorney, exemplifies some Mississippian's lack of understanding of prejudice.
"I believe that a lot of the hatred for anything "Democrat" in Mississippi is due to the perception that the "Democrat Party" is the party of black people, other minorities, and, worst of all, the gays."
Hanson is the owner behind The Law Office of Macy D. Hanson, a boutique law firm in Madison, Mississippi. His website describes it as a practice that "focuses on complex, high-stakes litigation" – however, he espouses the same sort of backward thinking that has inundated the state.
Racism and Homophobia is just something we should no longer tolerate and accept in Mississippi or anywhere else.
In today's society, attorneys and practitioners of law need to be transparent, inclusive, and unbiased – even in the state of Mississippi. To demand that an attorney like Macy Hanson is held to a higher standard, contact Mississippi's lawyer disciplinary agency and let them know about his viewpoints on Gays, homosexuals, and blacks.
Staff Writer; Fred Jones