About Jesus Christ, Christianity, And Bigotry.
(ThyBlackMan.com) I want to start by saying that I'm a man of God, and I'm also one of the most spiritual people you'll ever meet.  That's why I have the courage to tell you what I'm about to say.
.
According to the Bible, God doesn't even acknowledge anyone unless they're a White male. Open up your Bible and try to find a St. Willie, St. Linda, or St. Chong. Or go into just about any church in America and look at their portrayal of Jesus. If Jesus was the White man who's generally portrayed, and he had been born in the desert, they wouldn't have had to crucify him, he would have died of heat stroke. So if they'll even lie about what he looked like, how can you believe a thing they tell you about what he said?
.
But that's religion for you. It's merely a form of socialized brainwashing. Every culture does it in order to try to make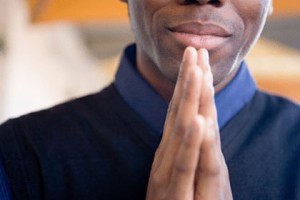 themselves seem special in the eyes of God. There are over 42,000 religions on Earth, and God doesn't have anything to do with any of them. If he did, there would only be one. So regardless of what your preacher tells you, the underlying message that Christianity is sending to your children is that Black people are ungodly.
.
Clear evidence of that is while we claim to love our brothers and sisters, we'll kill each other without giving it a second thought, and we feel no shame at all in calling the very womb of our culture "bitches" and "hoes." That's also why instead of educating you, your preacher robs you of the money that you should be spending on your children.
.
God speaks to us through common sense, not through scriptures. "The Scriptures" are the superstitious rantings of 3000-year-old dead men who believed in talkin' snakes. But you just can't get that across to some people, because they're so afraid of goin' to "Hell" that they continue to blindly dance to the White man's music and completely ignore his shackles. So, believe me, slavery still exists, but now, it exists in our minds instead of Georgia cotton fields – do you hear me Gladys? That's why you fell all over yourself for the opportunity to sing a homage to White supremacy. "How dare Kaepernick imply that we don't have the right to slaughter the godless!!!? It's an act of God! – OH SAY CAN YOU SEE . . ."
.
So again, yes, I believe in God, and no, I don't hate all White people. But God gave me the common sense to know that the White man and God are two entirely different things. God blessed me with sense enough to know that the very same people who taught slaves about God, and are thumpin' that Bible the loudest, are also cheering the loudest for Donald Trump. Look it up, it's a matter of record. But these people don't believe in God, they believe in White supremacy. They've been taught – just like you – that all non-White people are ungodly. But at least they know it.
Staff Writer; Eric L. Wattree