How to Shape up Your Home on a Tight Budget.
(ThyBlackMan.com) A non-negotiable budget is the biggest enemy of any home renovation project. Home renovations are never easy, and they are filled with issues depending on how serious the problem is. But every obstacle can be a blessing in disguise. Having to overhaul your home from the inside means that you'll finally be able to make the changes you've been looking to make. From changing the walls' paint jobs to installing brand new flooring and doors, you can finally start changing your home from the ground up. A metal wall trellis is a great decoration you can use outside of your home to improve its appeal. Here are some tips that can help you minimize costs while keeping your renovations efficient both structurally and aesthetically.
Consider your budget limitations
This cannot be stressed enough. Your budget limitations will make sure that you're able to deal with your structural changes and have enough room to redecorate your home still. If it's difficult for you to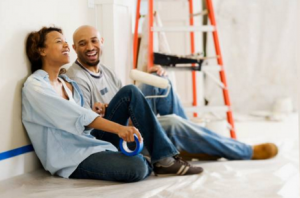 budget your finances, it's best to make a list of all the repairs that you need to be done; this includes dealing with the small issues such as covering up cracks in corners of the walls to dealing with plumbing or electrical issues that your home might have.
Once you've found all the areas of the home that need fixing, you might think that doing a redesign comes next, but that's more of the third step. The next step after repairs is making improvements. Better ventilation could be your next project to include in your repairs. Installing windows in the right places won't only add more sunlight but can give better air circulation in your home. These small adjustments can help improve your lifestyle significantly in more ways than one.
Use alternative materials for cheaper choices
If your budget ties you, then it's your job to be resourceful enough to find alternative materials. Most homeowners find the appeal of hardwood to be a luxury choice, but the buying and installation of the floorboards can be such a pain in the wallet. If you're looking to find another option that won't only serve its purpose but give you a few perks of its own, then you should buy vinyl flooring. Vinyl works great with any home and is significantly easier to maintain and place in your home.
Being familiar with finding the right pieces for the job can help you shave off a lot from your expenses to make the most of your budget.
Think of the long-term investment
Redesigning your home could be a costly project, but it does come with its perks. Invest in fast furniture since it's not just items that you get to keep in your home, furniture is also a potential money maker. Second-hand furniture that is in excellent condition can not only earn you back the money you invested but can also help you in moving out items with ease. Buying pieces that won't fall out of fashion such as ivory-stylized pieces and hardwood furniture can bring you back the investment you spent with just careful maintenance and care of your valuables.
Staff Writer; Bobby Moore