Omari Hardwick, Black Men, and Superheroes, An essay on HERO: A WORK IN PROGRESS.
(ThyBlackMan.com) In Omari Hardwick's HerO, a one-act play [bravely directed by Indira Etwaroo] and co-written by Grant Sullivan [Hardwick is the other playwright], a hooded-man dodges bullets from behind a scrim on stage. He is a backdrop and a symbol for the theme of senseless murder Hardwick examines in his one-man show intimately written to an audience of one, his hero, who is his dad, but also the man he is willed to become.
The play was in a workshop production at the Billie Holiday Theatre in Brooklyn last month for one night. It is a coming of age tale. Hardwick juxtaposes a scar on his shin to scars on his heart and metamorphoses from a starry-eyed boy to an aghast black man in the American south.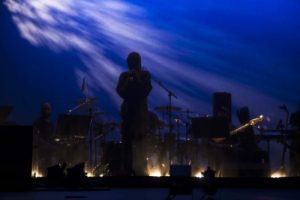 He was a football prospect in college and a bit of a hopeless romantic who resolved to answer the call of an actor. Similar to actor Hill Harper, who took a Harvard law degree and bused tables and auditioned, Omari sought validation in his parents as he moved forward to pursue a professional career in the arts. After a couple of sour relationships and a stint with homelessness he lands a gig; a play he auditioned for in LA premiered in New York and traveled. From theater to TV to Spike Lee, he was on the road to self-actualization when tragedy hit.
Set to live music, the play is a portrait of innocence-dismantled in the wake of untimely death. Hardwick crafts his hero [dad] enough for us to believe in him. [We start to love his dad, hamartia and all.] Then he snatches him away in a near-stoic moment, recounting an idiom from his father: "… it is what it is." When we lean forward in our seats eager to learn more, the play moves on, because Omari had to. Death is fast; and whereas we get stuck with the memory, it is a fatal fallacy to let its sting thwart our continued development. It is a lesson in grief but it never sinks into didacticism.
The play is ever agile as we witness the determination of a young man who has lost his hero in the flesh but seems to be endowed with the vigor of two heroes because of it. Death cometh to set another man free. And does one live for two when he loses someone to mortality? Omari assaults us with his grief and challenges us with this question and many more. Life is an act of pugilism with many opponents he must outwit.
We visit many milieus in HerO and are even asked to imagine the famed Bat-mobile. Here Omari offers us his most effective tool as a trained-actor – imagination – and at its core is the privilege of innocence a Black Man reclaims to spite American tragedy. The image of a Black Man has been made vulnerable to media since minstrelsy, but Omari joins the likes of filmmaker Ryan Coogler [Fruitvale Station, Black Panther] and controls his narrative and others. He names Black Men heroes even in death.
Follow Tylie on Instagram; http://Instagram.com/theplaywright (——–
Staff Writer; Tylie Shider
Also connect with this brother over at; TylieShider.com.