New Maryland Athletic Director Damon Evans has abundance of resources and challenges ahead.
(ThyBlackMan.com) The University of Maryland is one of the most recognizable universities on the East Coast. Located in College Park, Maryland, it is the largest university in the state and the largest in the Washington metropolitan area. There are opportunities to get a quality education in many areas at the University of Maryland and it helps to be located just outside the Washington, D.C. area. From an athletics standpoint, there have been some recent ups and downs for Maryland Terrapins athletics, but the new leader in charge of the athletic program hopes to bring some further stability. Maryland has recently named Damon Evans as Athletic Director to usher increased success to the athletics program while taking advantage of the potential of the program.
The road for Damon Evans towards his position as Athletic Director for the Maryland athletic program has been an interesting one. He played football for Georgia during the late 1980s and early 1990s and followed his post-football career in business roles for companies like Evolution Sports Partners in New Jersey. He worked his way up to the prestigious role of being the director of athletics at the University of Georgia from 2004-10.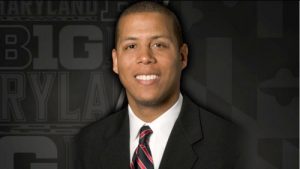 Being the athletic director at a resource-rich university such as the University of Georgia, Evans parlayed those resources into high athletic performances by many different sports teams and academic successes by many student-athletes who attended Georgia. Unfortunately, Evans' tenure at Georgia ended ugly following an embarrassing DUI incident by Evans in 2010 that could have seriously ended his career in sports business.
There will be high expectations for Damon Evans at Maryland as there were at Georgia due to the amount of different resources available for the athletic program. Maryland has a long-term apparel partnership with Under Armour, which was founded by former University of Maryland football player Kevin Plank. Under Armour's emergence as one of the top sports and athletic apparel brands in America has been beneficial for the University of Maryland and its recruiting.
It is also notable that Evans has been with the university since December 2014 and served as Executive Athletic Director and Chief Financial Officer prior to his promotion as athletic director. Evans was also present when Maryland made the surprising decision to leave the ACC Conference and join the Big Ten Conference in athletics, which has been both positive and negative at times for Maryland. Now, one of the biggest challenges that Evans faces now involves the Maryland football team and an extremely difficult and tragic situation.
Former Maryland offensive lineman Jordan McNair died earlier this month after being hospitalized May 29 after an organized team workout. Maryland's athletic department is conducting an external review into McNair's death. Maryland football head coach DJ Durkin and Evans were both emotional when discussing the situation during a June news conference. It is a delicate situation and during the news conference, Evans mentioned, "We believe it's important to bring in an external group to conduct the review. We started that process of discussing from the moment Jordan was hospitalized, and we will have a team that will provide us the necessary feedback so we can move forward." The findings and handling of the death of Jordan McNair will be an important factor in the tenure of Damon Evans at Maryland.
Staff Writer; Mark Hines