Great Investment Ideas For Beginners.
(ThyBlackMan.com) In this day and age, more and more people are looking for ways to build wealth for their family. However, as an investing beginner, the whole process might seem a bit too much for some. The first step is to pick an investment option from the countless possibilities that are out there. Some of the most popular ones are real estate, the gold market, mutual funds or stock market. The great news is that you don't have to have a large amount of money, to begin with.
Moreover, you don't have to graduate from a business school to be able to invest some money. You can learn a lot by doing research online or by getting in touch with professional investors. Below there are a few ideas that beginners can use to invest their money.
Pick Mutual Funds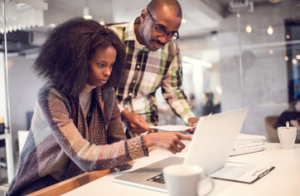 Even though a great number of mutual funds require you to spend large amounts of money, it is good to know that there are a lot of mutual funds out there that only require a minimal investment. A quick search online will tell you exactly where you can put your first deposit. According to specialists, mutual funds are probably one of the best investment options for those who are just starting off. They are great because they allow you to diversify your portfolio by purchasing different stocks.
Consider Real Estate
If you are looking to make a safe investment, then you may want to consider the real estate field. This is an excellent investment even for developing nations. After all, people will always need a place to call home and becoming a landlord is a good way of making some money. If you don't know much about how things work in this field and you are a bit overwhelmed by the whole hassle, then you should know that there are tools out there, such as Roofstock that simplify the whole process and give you some peace of mind.
Start a Business
If you are an entrepreneurial spirit, you need to look for ways of making money with the help of your brilliant ideas. You can actually start a business even with a small amount of money. For example, starting a blog is great no matter what field you are passionate about. On the other hand, if you don't have that certain sum of money that starting a business requires, you can start a business with little to no money. Offering dog walking services to your neighbors, lawn maintenance of child care are just a few brilliant ideas.
Stock Market
Last but not least, it is absolutely essential to mention the stock market. This investment idea had been gaining a lot of popularity recently only because it is relatively easy to perform. The stock market is great for those who want a bit of excitement while earning money. Trading stocks requires patience, determination, and attention to detail. Nonetheless, people need to be aware of the possible risks involved in trading stocks so that they don't lose a lot of money.
The investment ideas discussed above are great for beginners. Some only require small amounts of money and not a lot of business knowledge, while others can be a bit more complicated.
Staff Writer; Steve Parker