Tips On Making Sure Your Elderly Parent Is Taking Their Meds Properly.
(ThyBlackMan.com) Do you have an elderly parent that lives alone? If so, making sure that they take their medications properly can be a matter of life or death. Even with a med list in hand, it can be difficult to decipher which pill is which, and how often your loved one has to take it. Here are just a few ways that you can simplify medicine intake and make a stress-free experience for both you and your parent.
Medication Reminders
Knowing when to take certain pills can be challenging. Every pill requires a different time frame and quantity to be effective. If your loved one's medication is life sustaining, taking it at the wrong time may trigger a drug interaction and require a trip to the emergency room. If your loved one lives alone and has dementia or just doesn't understand their dosage, this can be problematic too. Setting up medication reminders is a good way to make sure that the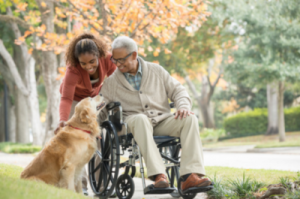 medication is being dispersed properly. A pill pod is one way that you can place medication in the correct pod to remind your parent to take it in the morning, afternoon or evening. You can also be reminded via text regarding when exactly you should take your medications. Some hospital programs also offer phone call reminders, especially if you take life sustaining medications such as blood pressure medicine or insulin.
Talk with Your Pharmacist
Are you having problems with mixing medications or experiencing some side effects that you weren't expecting? Did some medication spill and you're not quite sure what the name of the medication is? One solution is to use a pill identifier and then go in and talk to your pharmacist about any side effects or potential interactions. Your pharmacist will be able to instruct you on:
*Identifying specific medications from different manufactures
*Checking the quantity of the meds that you're taking.
*Side effects of certain drugs
*The effects of mixing prescriptions with certain natural supplements.
*Risks of using certain medications together.
Because so many medications have to be taken at specific times or with food and water, your pharmacist, who specializes in medicines, can tell you how and when to take them. If there is a major change or concern, always call your doctor to confirm a change in how the med is taken.
Talk One on One with the Doctor
Next time you're elderly parent has a doctor appointment, be sure to go with them to discuss medical issues. This is a great way to be clear on medication instructions and any upcoming tests. Sometimes an extra set of ears and eyes is a good idea. Don't be afraid to speak up and ask the doctor about any medical concerns and medication questions that you may have. Taking notes is important for future reference.
Inquire About Home Health Care
Has the thought ever crossed your mind about placing your loved one in a skilled nursing facility or assisted living? It may be the last place your loved one wants to go, but there are some ways to get some additional help while your loved one still lives at home. Home health care is a great way to ensure that your elderly parent gets the care and supervision that they need with daily life activities. This includes:
*Organization of medication and related supplies
*Help with dressing and bathing.
*Light housekeeping and help with tasks around the home.
*Meal prep and serving.
*Errand running and grocery shopping
*Rides to medical appointments.
Your doctor will make the referral and then you'll speak to the home health agency. From there, they will assess your loved one's needs and decide how many times weekly and daily they should visit. This offers a great alternative to skilled nursing care, especially if your parent is still somewhat mobile and independent. It also provides a great deal of companionship for some seniors.
Taking care of your parents does not have to be a burden. Ask for help to make your job easier.
Staff Writer; Shawn Hall