Four Tips That Make Traveling With Medication Easy.
(ThyBlackMan.com) A lot goes into planning a trip. You have to find an affordable flight and come up with an itinerary. You have to figure out where you're going to stay, and most of all, you have to figure out what you're going to pack.
Items like clothes and shoes are fairly easy because they can be shoved in your check-in bag, but what about your medication?
Here are four tips that will make traveling with your medication easy.
Get All of Your Medication Before You Leave
Make sure you have all the medication you'll need before you leave. You may even be able to save by finding coupons online.
It's important that you pack everything you'll need because you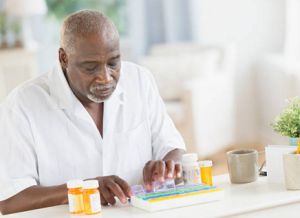 don't want to end up in a strange place trying to get a prescription filled when you're supposed to be enjoying your vacation.
Research the Legality of Your Medications
You probably don't think twice about the legality of your medication. After all, if you have it in your medicine cabinet, it must be legal! That's true here in the United States, but it may not be true in other parts of the world.
Before you leave, you must do your research. What's legal here may be considered a controlled substance in another country. You don't want to have your medicine confiscated, or worse, get arrested, because you didn't know.
Always Travel With Your Medication in Your Carry-On Bag
Throwing things in your check-in bag can make traveling with some items more convenient, but that doesn't mean it's a good idea. You want to make sure your medicine is with you in your carry-on bag.
If your luggage were to get lost, your medicine would be lost with it. You could go days or weeks without access to the items in your bag. That can impact your health greatly, depending on the kind of medication you packed.
Keep Everything in Its Original Bottle
Although it may seem convenient to pack every pill you need in one of those weekly or monthly organizers, it's actually a bad idea. TSA has to know exactly what you have in that carry-on, which means keeping everything in its original bottle. In addition:
You should create a list of your prescription and over-the-counter medications.
You should travel with a note from your doctor that outlines the necessity of the medication, especially if you have liquid medicine.
You need to identify and separate any controlled substances and make sure they're accompanied by a current prescription.
You must pack medications in a clear plastic quart-sized bag.
If you have medicine that needs to be refrigerated, keep it separate in an insulated bag with a freezer pack that can be removed and inspected easily.
There's no doubt that traveling with medication can be a real pain, but it doesn't have to be difficult or impossible. You just have to know what to expect.
With these four tips, you can worry less about traveling with your medication and enjoy your vacation more.
Staff Writer; Derrick Short