Kyrie Irving Requested A Trade Because LeBron James Hinders Teammates.
(ThyBlackMan.com) The narrative has always been that LeBron James is the consummate teammate.. A pass-first small forward who looks to make others better. While it has been the popular opinion amongst your average NBA head, those who know the game of basketball understand that this casual talking point could not be farther from the truth. So when Kyrie Irving requested a trade from the Cleveland Cavaliers, everyone was shocked.. Everyone but those who saw through the charade.
Fact of the matter is, LeBron has always relegated good players to scrubs (Larry Hughes, Antawn Jamison) and great players to role players (Chris Bosh, Kevin Love). Sure, LeBron puts up incredible assist numbers.. however, those numbers have never translated to his teammates' individual success. In fact, they do the exact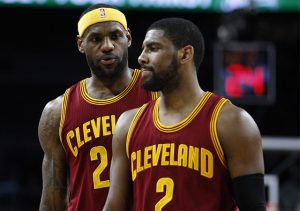 opposite. The reason LeBron's assist numbers are so high is mainly due to the fact that every single play must run through him in what is being popularized as "LeBron Ball".
This same style of play turned franchise players like Bosh and Love to nothing more than spot up shooters standing on the perimeter waiting for their opportunity, while LeBron selfishly inflated his own stats to feed his insecure ego. Instead of playing a game where the ball moves, any team that features LeBron will be destined to lack a team element to their offense. In turn, it creates the illusion that it is always some one else's fault. He could have a super-team around him, but due to his individual stats, the narrative will remain "LeBron needs more help!"
Anyone who watched the Cleveland Cavaliers closely in the past few seasons understands that Kyrie has been the teams' true go-to guy.. Whenever the Cavs needed a basket, it was typically Kyrie who was turned to for an answer. And while Kyrie was responsible for carrying most of the offensive load, it was always LeBron who got the bulk of the credit. It is no wonder Kyrie is getting fed up and requested to play for another team. Living in the shadows of a player who is highly overrated due to his stat-padding has to be hell for a young superstar like Kyrie.
Lucky for LeBron's legacy, the Golden State Warriors had an epic choke-job in the 2016 NBA Finals. Steph Curry was terrible (partly due to injury), Draymond Green was suspended in the pivotal game 5 (per LeBron's request), Andrew Bogut was out with injury (free path to the rim for the Cavs), and Andre Iguodala could not get any lift due to a bad back (hence LeBron's game changing block in Game 7). And still, the Cavs were barely able to edge out the Warriors on a Kyrie Irving game winner in the deciding Game 7. Nonetheless, it was LeBron who was hailed as the hero, despite the fact that he had more disappointing games than good ones in the series.
So why are we surprised that Kyrie Irving no longer wants any parts of this? When rumors started spreading that LeBron is leaving Cleveland after this season, he did not show a shred of loyalty by shutting them down. He did not even hint that he was there to stay. Seemingly, his beta personality masked in entitlement has contributed to his lack of solidarity. If LeBron can not proclaim his loyalty to his teammates, why should Kyrie's legacy falter in his shadow?
The media has hailed LeBron James as a GOAT level talent, alongside the likes of Michael Jordan, Kobe Bryant, Magic Johnson, etc. In reality, "Lebron Ball" is largely responsible for this outlandish idea. While LeBron James is obviously a great player, this Kyrie Irving saga, once again, proves that he is not exactly who he has been billed as.
LeBron wants two things: his stats and his spotlight. He will not sacrifice either one for the betterment of the collective.
And while it may take some time for your average NBA fan to lift the wool pulled over their eyes, the truth will always eventually come to light.
Staff Writer; Sccit