Is Lonzo Ball The Next Great NBA Point Guard?
(ThyBlackMan.com) It is the beginning of a new era in Los Angeles.
And while many believe that Lakers fans are jumping the gun by anointing Lonzo Ball the savior of the Purple & Gold, rarely does the potential of a player generate this much buzz around the league. There was seemingly something special in this kid.. Something the NBA has not seen in quite some time.
So when Lonzo Ball struggled in his Lakers debut at the Las Vegas Summer League, the naysayers jumped faster than a rabbit in heat. Who can blame them? The hype around Ball created a Summer League buzz never before seen. We are talking about an exhibition that used to be played in high school gyms with about 20 fans in the stands just 10 years back. These match-ups were rarely even televised.. But this was different.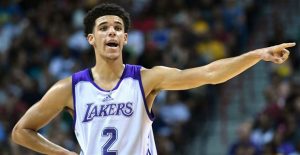 With all eyes on 'Zo, everyone was ready to see if he would justify the buzz and deliver in his first game against the Clippers… He did not. You can chalk that up to first-game jitters. As expected, Lonzo came back strong in his second game against the Celtics, racking up the first Summer League triple-double since 2008. And after sitting out the next game against college rival Da'aaron Fox, the skeptics quickly returned. Maybe 36 points, 8 rebounds, 11 assists and a game-winning basket while single-handedly eliminating the Sixers in the 1st round of the Summer League tournament would be enough to shut them all up? Who knows. They say the doubters are just dreamers with broken hearts.. and I would not blame anyone for having a broken heart due to Lonzo Ball not being drafted by their team. In round 2 of the tournament, 'Zo broke more hearts with yet another triple-double, eliminating the Cavaliers with a stat line of 16 points, 10 rebounds, 12 assists, and 5 steals to be exact.
We have all heard it.. "it is only Summer League!" But Summer League or not, Lonzo Ball has already displayed the ability to see the floor like no other. With incredible court vision, a natural feel for the game, and tremendous size at the point guard position, he is perhaps the best passer coming out of college since Jason Kidd. In reality, one could argue that the fact he is excelling in Summer League makes it all the more more impressive. For beginners, the Summer League game is only 40 minutes long, which gives players less time to accumulate a triple-double. Secondly, he is practically playing with D-League (or is it called the G-League yet?) level talent and pretty much has them looking like all-stars.. just imagine what he could be doing with some legit talent!
Actually, Lonzo Ball is what the Lakers were expecting D'Angelo Russell to be. It was D'Angelo who was initially hailed as the next great passer brought in to save the Lakers' sinking ship. And just like 'Zo, D'Angelo was also drafted at the number 2 spot to be groomed into the Lakers' next franchise point guard. Rick Pitino even went as far as claiming that D'Angelo was "the greatest passer since Magic Johnson". Ironically, the player who got D'Angelo traded (Lonzo) was exactly what D'Angelo was SUPPOSED to be. While D'Angelo turned out to be more of a shooting guard in a point guards body, Lonzo was clearly a pure point guard in every sense of the word, entering the draft as the record holder of UCLA's freshman assist record. A true leader with the ability to make those around him better. It is no wonder that as soon as the Lakers drafted 'Zo, Lakers' President of Basketball Operations Magic Johnson told him that their goal is to one day have his number 2 jersey hanging in the rafters alongside all the past Laker legends.
Funny how things work.. the Lakers' last great point guard ushering in the era of the Lakers' next great point guard, as if it was meant to be.
It is hard to think of a downside to Lonzo's game, but as great as he has looked, there is always room for improvement. The one area he has struggled in has been his three-point shooting. While he looked like a knock-down shooter in college, he has had some trouble shooting the three efficiently in the NBA thus far. It is not that he does not have a good stroke.. he already showed us he can shoot. He has an unorthodox form, but the current issue seems to stem from shot selection as opposed to mechanics.. Lonzo takes a lot of off-balanced shot, and sometimes tends to rush shots prior to getting fully squared up, hence his poor three-point field goal percentage 4 games in. But that is something that can easily be corrected, and more than likely will.
With cap-space and Lonzo Ball in the driver's seat of a team that features some exciting young talent, the future is looking bright for the Lakers. Small forward Brandon Ingram seems ready to take the next step. Power forward Julius Randle looks like he is in shape for the first time in his life. Backup forwards Larry Nance and Kyle Kuzma will thrive in the open floor with 'Zo leading the break. Center Ivica Zubac showed flashes of excellence at 19 years old in his rookie season. The off-season acquisitions of shooting guard Kentavious Caldwell-Pope and center Brook Lopez have been highly underrated. And with 6th man Jordan Clarkson, veteran Luol Deng, backup point guard Tyler Ennis, backup swingman Corey Brewer, rookies Thomas Bryant and Josh Hart rounding out the roster, it is safe to say that the Lakers' arrow is pointing all the way up.
Hopefully, you were not one of the doubters who wrote Lonzo Ball off after the first game, because whether he wears Kobe's Nikes, Harden's Adidas, or whatever it may be.. Big Baller Brand takes no losses.
The ball era has officially begun.
Staff Writer; Sccit