Inside the World of Kink.
(ThyBlackMan.com) Kink, fetish, role play…whatever you'd like to label it, is catching steam in the bedrooms of black America.
What comes to mind when someone asked you if you're kinky?
A vanilla person would possibly respond with the non-threatening, 'I like it rough.', or ' I like my hair pulled and my ass spanked during sex.', while a response from a true fetishist or kinkster would most likely reply with,' I like my guy to dress up as a doctor, and I pretend to be his patient.', or 'I'm into the D/s dynamic, and my role is as the sub.'.
There are some closet freaks out there into feet and hairy armpits who just don't know that what they are into isn't abnormal…in the kink world, anyway.
There is a place for anyone looking to experience an alternative lifestyle instead of living like the mainstream does. For those who are seeking to feel free to sniff feet and nibble on toes (
foot fetish
),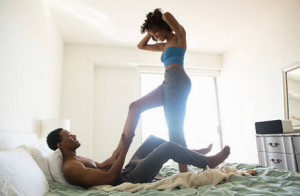 there are people who like to be on the receiving end of such pleasure. A woman who likes to regress back into her little girl phase and play baby girl or brat…there's a man who likes's to be called Daddy waiting for her.
Sometimes people like their entire lives to their kink. The are lifestyle doms who only interact with other doms and only date submissives. There are also professional dominants who get paid to put men and woman into submission.
One example of a couple who are lifestylers are married couples practicing domestic discipline. This lifestyle is a play on the D/s side of BDSM.
Domestic Discipline is when one partner is given authority over the other, and the form of discipline used to ensure and back up their authority is in the form of a spanking. This lifestyle is also the only alternative lifestyle that I know that can be backed up by biblical verses. Here's one of many:
 4 Then they can urge the younger women to love their husbands and children, 5 to be self-controlled and pure, to be busy at home, to be kind, and to be subject to their husbands, so that no one will malign the word of God. -Titus 2
Some religious types in the lifestyle call their way of life Christian Domestic Discipline. DD couples agree that that the 4 D's are offenses that could jeopardize their relationship and the respect the hold between each other. The 4 D's are:
Disobedience– Obedience is submitting to your partner's sexual requests. Disobedience is finding a way out of sex, or not following any rules giving to you.
Disrespect-Respect is when the partner does what he or she is told without talking and or rolling their eyes. It is disrespectful the head of household to question his or her motives and feel that your way is better.
Dishonesty– Honesty is disclosing any information and answering questions with integrity. Dishonesty is obviously lying to avoid being reprimanded.
Dangerous Behavior– If you have been drinking, don't drive. If a friend calls you and asks you to jump off a bridge with them…don't. That's dangerous behavior can compromise your safety.
There are other alternatives to just the swing lifestyle for couples, and with the hit BDSM flick, '50 Shades of Grey' opened many people's eyes into the world of BDSM (Bondage, Discipline, Sadism and Masochism), African American couples should start exploring their sexuality more and see what the 'other side of sex' has to offer them.
Don't forget to watch that old kink flick 'Secretary', as well for more insight into the world of domination and submission…and so you'll know what to do with that horse saddle!
Staff Writer; Celeste Writer