EWC Student and Professor Speak at Edcamp NABSE.
(ThyBlackMan.com) Tyrone Williams, educator from Rochester, NY and Jon Gregory student attending EWC.
Edcamp NABSE is an educational camp held in Tampa, Florida; in attendance were educators from Florida, New York, Canada and other parts of the nation. They enthusiastically shared instructional best practices, classroom management strategies, classroom procedures to increase student success, how to integrate diverse technologies and opportunities for collaboration with online projects between classrooms separated by distances. Edcamps are a participant involved professional development learning experience that occurring across the nation and are teacher lead.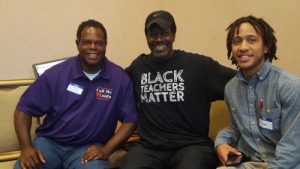 The training sessions are provided by teachers with many levels and years of background experience so there is diverse experience by teachers that are passionate about teaching and building students to meet their full potential. William Jackson instructor with Edward Waters College and DCPS and Jon Gregory student in Elementary Education in the Department of Education and Urban Studies at EWC. Mr. Gregory also works with Communities and Schools, teaching in the TEAMUP program for at risk students.
Prof. Jackson and Mr. Gregory spoke on their experiences as teachers, community activists and mentors in the community of Jacksonville, Florida.
Resources
EdCampNABSE – https://spark.adobe.com/page/TcID6BRLHlupl/
Teaching Now – https://tammyneil.com/
Why Teachers Should Go To EdCamp – https://www.edutopia.org/blog/why-edcamp-kristen-swanson
EdCamp Across the Nation – http://www.edcamp.org/
Hashtags to follow – #EdCampNabse #NABSE2016
National Alliance of Black School Educators EdCamp #NABSE2016 @EdcampNABSE
Staff Writer; William D. Jackson
Find out more about this talented writer over at; OCS For Education.