Addiction: Why It's a Family Affair.
(ThyBlackMan.com) Addiction – it's a word that many Americans like to ignore. Often we blame the addict and believe they get what they deserve if they abuse drugs or alcohol. But it's a growing problem that's bigger than the 23.1 million people battling addiction. It's a family affair that's influenced by many outside forces.
The likelihood that your family will deal with addiction depends on a variety of circumstances. For example, some regions are more heavily impacted by addiction than others. The statistics on this page highlight that youth drug use is higher among Hispanics, and numerous states in the Southwest have above average rates of mental illness. These are two factors that play a role in the Southwest's high addiction rate.
Incarceration is another factor that feeds into addiction. The unfair justice system policies disproportionately affect black men, leading to increased rates of incarceration. This mass incarceration of black men has many negative consequences, and increased exposure to prescription drugs is one of them.
Addiction isn't just a problem for the person abusing drugs and alcohol. It's a problem that rips families apart and keeps the entire black culture from advancing.
How Addiction Impacts a Family
If you think addicts are the only ones affected by addiction, you're overlooking the millions of family members who struggle every day to help their loved ones. Their lives are equally affected, which is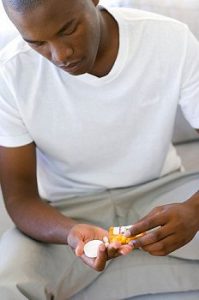 something federal policymakers don't seem to consider when they create drug possession laws and programs for drug use.
Families that are dealing with addiction face a number of problems that often tear loved ones apart.
Emotional Toll
Watching a family member struggle with addiction is emotionally trying for everyone involved. You can feel helpless and hopeless trying to get the person to quit. Just convincing them that they have a problem and need help can be a challenge that becomes the sole focus of the family.
Family members will begin blaming themselves and each other for the addict's behavior, adding to the emotional turmoil. Fights can occur between family members that have different ideas on how to handle the issue. Resentment is also a problem that can scar a family for years long after an addict has recovered.
Loss of Trust
There are few people you can trust in this world outside of your family. However, addiction often erodes trust among family members. It could be from theft since addicts tend to steal from family members to support their habit. Addicts also hide their drug and alcohol use, which makes it hard for family members to trust them. Another problem faced by family members is broken promises made by the addict when they are under the influence. The betrayal can be significantly impactful when it involves promises made to children.
Incarceration and Legal Fees
As already noted, incarceration is connected to drug use in more ways than one. Because of the illicit substances involved, many addicts find themselves on the wrong side of the law – which is often the purpose of the laws. An arrest adds to the strain because family members are separated, and legal fees add to the financial pressure. Once the person is out of jail it could be difficult for them to find a job, and family members may have to provide financial support.
Parent-less Children
Many black children have had to grow up without their parents around because of disproportionate drug laws. When addicts are caught with drugs and/or paraphernalia, they don't go to a treatment facility, they go to jail. Depending on the charge, a parent battling addiction can be sentenced to so many years in prison they don't get to see their kids grow up and provide them with parental guidance. Even if the person isn't incarcerated, they aren't really present to provide parenting when they are on drugs or alcohol.
The Conclusion – Addiction treatment centers offer addicts and their families help, but the government can do much more to help prevent the problem before it starts. Current laws and regulations focused on drug use only add to the problem by incarcerating people instead of getting them professional treatment for the disease. It's an issue that disproportionately affects people of color. The result is countless black families that are divided and torn apart by addiction.
Staff Writer; Joseph Allen