Wicked Watersports Activities That Make Up Part Of A Healthy, Active Lifestyle.
(ThyBlackMan.com) If you're having a bad day, then sometimes there is nothing better than kicking back and hitting the water. Watersports are growing massively in terms of popularity – and for good reason too, they're great fun! If you're looking to lead a new healthy, active lifestyle, then watersports could be the centre-point of it. We've taken a closer look at some of the coolest watersports to get your teeth stuck into! Check them out, below.
Surfing
The most obvious of all watersports is surfing. Plus, it's arguably the easiest, too! There's no better way to start out in the watersports world than with this one. So, stick your wetsuit on and dive in! What are you waiting for? If you're planning on mastering the art of surfing, then surfing lessons may be of interest to you. Special surfing coaches can guide you through the processes behind riding those big, crashing waves. If you get the hang of it, then you're going to look dead cool! Be sure to keep practising and practising because it'll all be worth it! One of the best places to go surfing is Australia.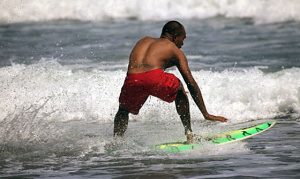 So, next time you're down under, be sure to grab yourself a board and hit the waves – it's super fun and great for your fitness! All your upper body strength is used to keep you balanced. Meanwhile, leg day is in full force as your calves are going to be crucial to helping you stay on the board.
Windsurfing
Got an idea of what windsurfing is? Well, if not. Then, let us explain for you! Essentially, when windsurfing, you are combining elements of different sports. Both surfing (above) and sailing are used to create one of the most epic watersports that there is! Your task is to stay up on your board, typically around three metres in length, all with the aid of the wind on your sail. Utilising the wind in your favour is what is going to help you stay both upright and in the right direction. This is one of the trickiest watersports. So, only give it a crack once you've mastered something a tad easier – such as surfing! That said, when you pull windsurfing off, you're going to look like one cool dude! So, stick at it! As more beginner-friendly designs are becoming available, the adoption rate for windsurfing has skyrocketed. Windsurfing as a healthy, active lifestyle solution is definitely on the rise.
Wakeboarding
Finally, why not give wakeboarding a shot? This sport is a combination of surfing, water skiing and even snowboarding. So, as you can imagine, it is really for those who have mastered the intermediate water sports techniques. If you're up for the challenge and really fancy getting fit and healthy, then definitely take up wakeboarding – you won't look back! If you do, you'll be in the water! The motor boat that tows you along can travel at speeds that often average around 25mph – so the whole experience is quite enthralling!
Ultimately, if you're looking to get fit and healthy, then water sports are definitely one of the best, and most enjoyable, ways of going about it! Got any more watersport favourites that you'd like to share with our readers? If so, then drop your suggestions in the comments section below.
Staff Writer; Bobby Carter