Donald Trump : Good For African Americans.
(ThyBlackMan.com) Donald Trump is good for African Americans. No I have not hit my head and no I am not on drugs. I realize he has no real plans for anything but to build a wall. I am very aware that he insults Hispanics, Muslims, women and handicapped people. I see that he incites violence amongst ignorant trailer park rednecks who wish they could bring back slavery. I know that Trump has no experience, that he is a bully with a big ego and that he might start World War III. I know that Trump will not be able to bring jobs back like he says because corporations make more when their factories are in other countries. So why in the world would I say Donald Trump is good for African Americans? Let's look at the proof.
Intense heat and pressure is needed to make a diamond. Diamonds are not created, they are made out of something that already exists – carbon that changes form and crystallizes. And even then, they are diamonds in the rough that must be faceted, polished and marketed. It is the same thing with African American people. Our people have made more progress and been at our best when times were at their worst. Why? Because we had no choice but to wake up, rise up, stand up, speak up and determine our own destiny. It may not be his intent, but Trump has become the alarm on your clock.
The civil rights movement is arguably the best thing to ever happen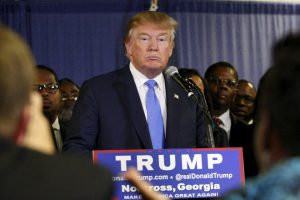 to African Americans when it comes to rights, wages and opportunity. But opportunity is a two edged sword. What helped us in civil rights also tore us apart economically. As soon as the African American dollar could leave our communities, our people took it elsewhere and didn't look back. Then we opened the flood gate to allow other ethnic groups to come into our communities and get our dollars that remained there. We turned around and realized that we owned much of nothing in our communities – not the gas stations, not the grocery stores, not the flea markets, not the hair and nail salons, not the malls, not the dry cleaners, not the hair supply stores. We seemed to own the funeral homes and the products that put us there like Johnson and Johnson powder.
If you need hope, look in the mirror – not at the government. If you want things to change, you change them. If you want a better life, you make it happen. Yes you. We cannot afford to trust our future to people who have not made us the top priority. How much proof do we need?

How many wake up alarms must ring before we stop hitting the snooze button?
Donald Trump is the shock treatment wake up call the African American community needs. Our people need a good strong dose of reality. The recession did not wake up the majority of our people. The church as a whole has not done the job either because they (not all) have been so busy fleecing the flock that they are not feeding the sheep with the practical food to win economically. Yet our people still support pastors with $60 million dollar jets and "bishop" pedophiles who should be in jail. Oh yes we drank the Kool Aid but the tropical punch is coming from our own people today.
The African American people need to face the adversity alarm clock which shows us that the government does not care about us. We should know that from Flint and New Orleans. But we keep waiting and hoping and praying that Massah will help us out and take care of us. Has the democratic party bought off African Americans with food stamps, welfare, WIC, Section 8 and affirmative action? Are these "entitlements" doors of opportunity or trap doors to control and prevent African American independence?
As a matter of fact, our people have always come together and been at their best when they had to. But when things seemed bearable, our people became complacent and went to sleep.
Wake up! Heat and intense pressure makes a diamond and our people are diamonds so get hot and go hard! Only then will you, your family, your community and the world recognize your value.
Donald Trump is exposing out front the very things that Hillary Clinton will do without any warning whatsoever and that the government has been doing all along – regardless of who was in the White House.  The same misdirection that magicians use tends to fool African Americans regularly when it is used in politics. It's a game. See how bad Trump is and you will run to vote for Hillary Clinton is the game. But then place your hopes in Hillary Clinton as if she is a magician or miracle worker and you have been duped or punked yet again. Do you really think ANY of the candidates are being honest with you? Really? If you believe that, you are falling for ultra-smooth, strategic,  political rhetoric and propaganda that rivals the very strategies used by Hitler (a Socialist just like Bernie Sanders). If you place your hopes for a better tomorrow in any President, you abdicate the ability to determine your own destiny.
Our government has never been of our people, by our people and for our people. And those who keep hoping it will with a new President are those who will get more of the same disappointment.
The future of the African American people must be up to the African American people and Donald Trump is the perfect wake up call because he does not plan to do much of anything for you – and he is not saying he will. Therefore the message is clear – get ready to do for yourself because the government is not going to be the solution. Sometimes thee medicine that works best is the medicine that taste awful and leaves an even worse aftertaste. Enter Donald Trump. But the medicine that tastes great and has all the flavor you would choose is thee medicine that seldomly does any good. Enter Hillary Clinton.
Before I conclude this article, I would be remiss if I did not leave you with a verifiable example of just how covertly they have duped African Americans. Many of our people believed and still believe that Planned Parenthood was created to help African American women and families. That is a lie.
Planned Parenthood was created by Margaret Sanger, a racist follow of Hitler and the master race theory. She placed Planned Parenthood primarily in the African American community in order to kill as many of our unborn children as possible – and it worked. People were fooled because Sanger's organization camouflaged it's real purpose by putting out an agenda to help families.
Statistics prove that more African Americans have been killed by abortion that all those killed by black on black crime, AIDS, Cancer and police officers combined times 2. If you don't know what Eugenics is or if you think it's just conspiracy theory, you need to know it is population control that includes getting rid of you. Do your research.
See the links on the truth about Margaret Sanger for yourself: 
https://www.youtube.com/watch?v=AYNFoB3d0P8

https://www.youtube.com/watch?v=1v92BCGN3-c

Hillary Clinton supports Planned Parenthood and thus inadvertently supports the Eugenic extermination of the African American people. If you still don't believe that, it's only because you are willing to ignore the facts, believe the lies and hide your head in the sand. But whether you believe it or not, one this is clear. Your future is up to you – if you will take responsibility for it and authority over it. And whether you like the sweet subtle pill of Hillary, Bernie and others or the rough shot in the arm by Donald Trump, the medicine is coming and the plot is laid out. Wake up and do your research. Think for yourself. Vote for the cold bucket of water in your face that will wake you up instead of voting for a slow, covert death.
Staff Writer; Marque-Anthony