Why We Should Celebrate Cam Newton.
(ThyBlackMan.com) Cameron Newton has won the NFC Championship. He is the MVP of the National Football League. He, and the Carolina Panthers, are headed to the BIG GAME…the Super Bowl; what makes it all the more special is its Super Bowl 50.  Everything seems to be going great for Mr. Cam Newton, and we have every reason to celebrate this athlete. Granted if you are a non-bias fan of the game of football his method of play this season has been remarkable.  It is very easy to see, and appreciate, his growth as a quarterback and leader. Cam Newton by all accounts earned the MVP without a doubt. He should, in the eyes of some, be branded as one of the Elite faces of the NFL.
However, how he has conducted himself as a professional off the field is truly a reason to celebrate as a people.  Let's be very honest for a moment…black quarterbacks from Doug Williams to Cameron Newton have not received the best treatment in the NFL.  They could never just be players…no they had to battle the element of race.  The quarterback is the leader of the offense, and on many teams the leader of the team as a whole.  It is assumed that it takes a certain degree of intelligence, calculation, accuracy and level headedness to be an efficient quarterback.  Of course for a very long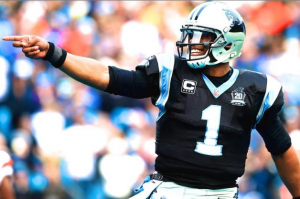 time that position was occupied solely by white males.
Today there are 32 teams, and this season 8 teams had black quarterbacks as starters.  Five black quarterbacks have started in the Super Bowl: Doug Williams, Steve McNair, Donovan McNabb, Colin Kaepernick, and Russell Wilson…Cam Newton will be the sixth. With this being stated only two black quarterbacks, Doug Williams and Russell Wilson, have actually won the Super Bowl. This is important because though black quarterbacks have shown to have the football IQ, and leadership skills necessary to be competent quarterbacks while physically outmatching many of their counterparts…they are still unacceptable by many.
Cam Newton shows a level of passion and excitement when playing that should be seen as a positive aspect of his game.  However, he has had fans write letters, and the media drag his name about touchdown celebrations and just having a good time doing what he loves.  While he is having a great season, and simply choosing to enjoy the game yet demonstrate responsible leadership we have a quarterback like Johnny Manziel that is irresponsible, unprofessional and reckless.  Yes, sports commentators will speak against Manziel's behavior…but his bad press for negative behavior does not match Newton's bad press for just playing with joy. Through all the negative press Newton has remained focused, professional and true to himself.
Cam Newton does great charitable work, puts a lot of emphasis on children and maintains a positive image. However, no matter what he does some white folks will still label him a thug, a nuisance, and someone unworthy of our praise or respect. The beauty of it all is he handles this unfortunate behavior in an honest, yet graceful manner.  He has acknowledged the race matter regarding his position directly stating: "I'm an African-American quarterback that may scare a lot of people because they haven't seen nothing that they can compare me to." It seems as though he has not allowed his naysayers to bother his game nor demeanor at all.
He is being Cam Newton no matter what the headlines read, and this is something to celebrate. A positive brother, which happens to be a football player, doing positive work in his community, and carrying himself with dignity. He is confident, and secure within himself. Honestly, I hope there are lots of little black boys that are Cameron Newton fans. I'd only suggest they pay as much attention to how him off the field as they will on the field. Many will be pulling for him in the Super Bowl February 7th even if they are not Panther fans, because they are Cam Newton fans.
Staff Writer; Christian Starr
May connect with this sister over at Facebook; https://www.facebook.com/christian.pierre.9809 and also Twitter; http://twitter.com/MrzZeta.