Timing in Mind: Using the Calendar for Smooth and Simple Relocating.
(ThyBlackMan.com) Some move for financial gain while others must switch locations for a job.  Regardless of the reason, you have to ensure time remains on your side with good preparation and methodical thinking.  Use a calendar approach for smooth and simple relocating.
Starting a New Job
If you're moving for a new job, you'll have to plan your arrival at such a time that does not interrupt your work or influence your ability to show up on time.  You don't want to be late or miss work when you're the new person.  It doesn't make a good impression and your lack of ability to properly plan your arrival may cause your boss to assume you go about your work duties the same way.
Ending a Lease
Before you move on, you want to address all loose ends.  That includes cleaning and preparing your current place for an inspection and hopeful return of your security deposit.  Reread the lease before vacating and ensure you covered all the bases regarding tenant responsibilities.  For example, you may need to fill holes in the walls, take down hooks, repair damages, and thoroughly clean the living space to get your deposit back.
Selling Property
Selling your property is a great feeling but if you don't have an immediate place to go, you can quickly eat away at savings by staying at a hotel and placing belongings at a storage facility.  If you sell your current property, be sure you can seamlessly move somewhere else or stay with a friend or family member.  On the other hand, if you create a timing nuisance for a potential buyer, you may deter them from making a definitive purchase.  You may benefit from the assistance of a real estate company.
Getting Married
Getting married is a joyful experience, but it's also very expensive, especially if you and your new husband or wife wind up paying for two places when you only need one.  Couples plan marriages well in advance, and deciding what to do about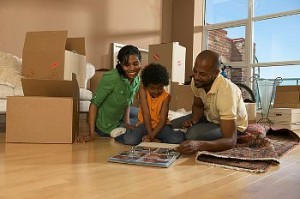 living arrangements should be among the first preparations.  Before you book a place to have the reception, be sure you will be able to sell your home or apartment.  It's exciting to think about getting married, but you don't want to have money issues as soon as you tie the knot.
Considering the Season
Consider the season you'll be moving.  For example, moving in extreme hot or cold conditions makes things more difficult.  For example, if you're moving during a snowstorm, it may take the moving service twice as long to carry your belongings and get items to your new location.  Conversely, if you're moving items on your own in extreme heat, it may take longer due to fatigue and the need for breaks.
Dealing with School Schedules
If you have kids, you may want to wait until the summer to make a move.  Depending on the logistics of the transition, the kids may be changing states as well as schools.  A lot of change can create stress for them.  Talk to your child and consider their school schedule before planning a move.  Moreover, changing schools in the middle of the year may be harder from a scholastic perspective; the kids will have to catch up with other students who had the same teachers and classes for the entire year.
Expecting Pay
Moving always seems to cost more than estimated.  If you're living on a budget, make sure you have enough funds for unexpected changes and added costs.  For example, some moving services give an estimated quote yet raise the price depending on how many workers are needed or time it takes to complete the job.  Even things that seem small, like buying boxes, can cost more than expected.  Be sure to account for added moving needs and costs.  You may want to wait until another pay period passes.
Taking the Day Off
Most people work Monday through Friday and reserve the weekends for things like moving, shopping, and traveling.  It means more people are on the roads on the weekends.  It also means that most may reserve moving services and resources during these times.  However, you may avoid traffic, higher prices, and unforeseen nuisances by taking a day off during the week.  Tell your employer weeks in advance and gather needs like boxes, tape, and bubble wrap ahead of time.
Moving is exciting but it can also be a hassle if time is not on your side.  Consider the time of day, week, and year before making a move in addition to things going on in your life and those in your immediate family.  Doing so ensures a simple rather than complex relocation.
Staff Writer; David Cooper