HBCU's Must Be Revolutionary to Survive with Technology.
(ThyBlackMan.com) Applying technology in higher education is the ability to acquire knowledge of technology platforms, integrating technology to create a paradigm of change in the instruction and application of learning.
It is a holistic approach to build a person that is prepared with skills needed to be an affective Human Capital agent with diverse global skills. In the 21st century HBCU's are increasingly in danger of being shutdown, articles like "11 HBCU's That Have Closed"; http://urbanintellectuals.com/2014/10/17/11-historically-black-colleges-universities-that-have-closed/
are showing a hostile climate of competitiveness, innovation, research and development and financial management events that are forcing HBCU's to be revolutionary. On the instructional side the application of technology platforms, development of Apps, and creating an innovative foundation to build from benefits HBC's.
The most valuable asset of HBCU's is intellect and strengthening academic instructions with tools that support multi-disciplinary applications of instruction and research. HBCU's have a strong foundation in preparing its students, competing against PWI'S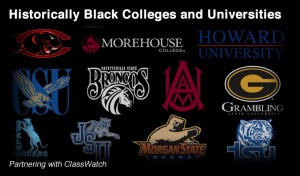 (predominately white institutions)is a challenge to
serve and being of service to communities once of color now of diversity.
At one time HBCU's were  the dreams of the communities where these historic Black schools were built, communities flourished around them and the school was part of the community and the educational climate.
Now communities do not show the respect or admiration they use to about these remarkable communities of learning. Black families are too quick in looking for a way out of their communities instead of working to re-invest in them, in their struggles to leave they neglect and even contribute to the demise of their communities. Too many Black leaders are receiving honors, awards, recognitions and even pseudo-doctorial degrees, what have Black leaders done to raise monies for financial aid, scholarships, offered internships and other supportive devices for HBCU's?
Students of HBUC's are Human Capital that are just as valuable and talented as those from PWI's, while HBCU's are preparing students for the work force, students must be exposed to intellectual
resources to teach the necessary skill-sets to survive and flourish in careers or as entrepreneurs.
Students entering into HBCU's must be ready to change their way of thinking by adapting their thought processes to grow and mature intellectually and behaviorally. You can't be a climbing executive if your mind is still cowering in a hood mentality.
HBCU's adapting to the 21st century are building Human Capital, they are creating Knowledge Workers, "They are workers that build a deep expertise in a set of skills." Google: How Google Works 2002. They become the "go to people" with dynamic skills that are needed, skills that solve problems and ask the questions that need to be asked in diverse industries.
The survival of HBCU's are vital to America, proper and truthful financial management, strong academic curriculums, building Human Capital which relates to recruiting students to attend an HBCU and ensuring they graduate. It takes a continual coordinated effort with collaborative work between parents, instructors and counselors. My son, a graduate of Florida A&M University understands the value of a strong academic foundation of an HBCU, graduating Summa Cum Laude, then attending Florida State University's graduate program and hopefully doctorial program. FAMU provided an excellent foundation for him and other graduates to build from and grow.
In the world today there is a transition of abilities based on management skills and technical skills. HBCU students learn the necessary management skills to "manage" people and resources from experienced instructors. The technical aspect is applied when the use of technology is integrated properly, with purpose from those with vast experience in the areas that they teach. Many
are / have been industry leaders in technical fields.
The combination of technical application, integration, collaboration and coordination comes from participating in areas where these skills can be nurtured, practiced in class and applied in real world situations. HBCU students are judged on the type and continuity of their content, so having a mission and vision in creating content is important. In my Educational Technology class at Edward Waters College students are learning more than just PowerPoint, Word, and Curriculum they are learning how to apply productivity tools, and digital tools in Social Media on diverse platforms. Learning how to integrate technology to teach with in education and apply tech to other disciplines.
To be able to communicate in an atmosphere of diversity, intellectualism and collaboration, networking in digital environments where you are judged by your content. Coordinating to help students manage their cross discipline skill sets, utilizing tools helps HBCU students build their Human Capital value as well as building Knowledge Worker skills. Writing builds intellectualism that can be applied across the academic curriculum of any discipline. It is my opinion that all HBCU students must consistently build diverse content and grow their writing skills. Building their critical and higher order thinking skills that allow for strong content development so they can Brand themselves and Market their abilities.
The fight for the survival is critical and increasingly dependent on the product that is graduated each year from HBCU's. To stabilize HBCU's there needs to be continued re-investment and investment to keep HBCU's viable, valuable and visible in and beyond the 21st century.
Staff Writer; William D. Jackson
Find out more about this talented writer over at; OCS For Education.