Producer Pharrell Made Just 2,700 In Royalties From 43 Million Streams Of The Song Happy On Pandora.
(ThyBlackMan.com) Pharrell Williams is one of the biggest performers on the planet.  His song "Happy" was considered one of the greatest pop sensations of the year, winning him Grammy nominations for Best Music Video and Best Pop Solo Performance.
he funny thing is that we often assume that the words "rich" and "famous" go together, like peanut butter and jelly.  Yes, Williams does have some money in the bank, but not as much as you might think.  According to the UK Business Insider, Pharrell's smash global hit song "Happy" made only $2,700 in publisher and songwriter royalties on Pandora.  
If you're shocked, then you should be. The song was played 43 million times on the platform, according to music publisher Sony/ATV CEO Marty Bandier.    In an email obtained by Digital Music News, Brandier said that even if a song is played a million times, the artist receives just $60
"This is a totally unacceptable situation and one that cannot be allowed to continue," Bandier wrote in the email. 
This isn't all that Pharrell received for the song, of course.  Many artists give their music away for almost nothing in order to get more concert performances.  But the advent of digital music has severely modified the business model for nearly all entertainers, even those who've been signed by major labels and have long, established careers like Williams.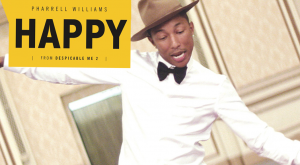 Fusion's Rob Wile says Pharrell did receive a few more dollars on top of the $2,700 from Pandora, but not much.
"According to industry analyst Michael DeGusta, Pharrell would likely have earned approximately $25,000 from the 43 million plays," Wile says. 
Bandier also said: "We at Sony/ATV want these digital music services to be successful because they are a great way for music fans to listen to music and have the potential to generate significant new revenues for everyone. However, this success should not come at the expense of songwriters whose songs are essential for these services to exist and thrive."
Pandora is part of the wave of the future of digitally-streaming music.  Megastar Taylor Swift stated that she doesn't feel that Pandora's rival service, Spotify, truly values her music.  So, she pulled her entire catalogue from the platform out of protest.
Pharrell stands among a group of artists demanding that YouTube take down thousands of songs that are being shared without permission.  A group called "Global Music Rights" has been formed to stop the use of their music without properly compensating the artists.  They are threatening to bring a billion dollar lawsuit against YouTube for copyright infringement and other offenses.  This economic battle should get interesting.
Here's what Pandora's Director of Public Affairs Dave Grimaldi said to Business Insider about this debacle: 
We respect Mr. Bandier's right to advocate on behalf of his business which, if BMI's recent results are any indication, is likely experiencing record revenues.

However, we wish Mr. Bandier would provide the proper context and facts. Pandora is already the highest paying form of radio to both performers and songwriters. We have paid more than $1 billion to rights holders since our inception, which amounts to over half of all revenue we have generated. Regarding the specific songs he mentions in his letter, Pandora paid all rights holders more than $150,000 in just three months, substantially more than the $6,100 he suggests.

The issue is not whether Pandora pays enough in royalties.  The real issue is the financial dispute between labels and publishers about how to divide Pandora's industry-leading royalties.  Mr. Bandier and his label peers (many of whom work within the same companies) are free to decide amongst themselves to change the split between songwriters and performing artists of the substantial royalty revenue already paid by Pandora.  We'd also encourage that same group to provide transparency about how those dollars flow to the artists and songwriters.

We want to work constructively with Sony ATV and other publishers to create positive, sustainable growth for the music industry. However, that vision must go beyond simply demanding that Pandora, which is already the highest paying form of radio, always pay more.
It appears that the business of music is evolving into one where artists may be better off working independently than with labels that can't provide significant amounts of capital.  Kansas City independent artist Tech9ne, was able to make the Forbes richest celebrities list without any support from a major label.  For those who take the time to study business models, this might be the best way to go.
Financial Juneteenth lessons from this story:
1) Every entertainer should study business, even if you simply study it on the Internet.  An understanding of marketing, demand/supply, accounting, and distribution can make the difference between being a person who can control their own environment vs letting your environment control you.  Artists who only focus on their craft and don't take the time to read contracts or think about their business situation usually end up getting hammered by the financial sharks of corporate America.
2) Never assume that a celebrity is wealthy just because they are famous (Pharrell is doing quite well, however).  There are tons of celebrities who have no idea how to monetize their brands and end up struggling financially because they haven't had a hit movie in a while or have failed to produce hit records.  Also, many celebs fall into ugly spending traps that come with trying to live a celebrity lifestyle.  So, like an alcoholic with a very high liquor tolerance, they have to make boatloads of money just to stay afloat.  Unfortunately, the late Michael Jackson was in this category, spending as much as $10 million per month just to maintain his lifestyle.
Staff Writer; Dr. Boyce Watkins 
Dr. Boyce Watkins is the founder of the Your Black World Coalition.  For more information, please visit http://BoyceWatkins.com.