ESPN's Stephen A. Smith: Great Voice Wrong Message: Fighting Against the NFL's N-word Policy.
(ThyBlackMan.com) During the course of a nationally-televised football game on September 14, 2014, the NFL's San Francisco 49ers' quarterback Colin Kaepernick called Chicago Bears' defensive end Lamarr Houston the n-word (n**ga). It was then that a referee (who happened to be white) penalized Kaepernick for use of the vitriolic; the penalty resulted in an $11,025 fine.
On September 23, 2014, on national TV, ESPN's First Take commentator Stephen A. Smith took issue with the policy. He presented an arousing and passionate response to the enforcement of the policy that he diametrically opposes. Smith feels it is okay for two African-American athletes to "trash talk" one another on the field, and if the term is spoken, then so be it. Smith argues that the rest of the world isn't "sensitive" to how the athletes were raised and that, perhaps, in their neighborhoods and homes, the n-word was acceptable and a term of endearment.
Smith's main point of concern, however, is that a white referee penalizing a black player for use of the n-word is egregious and offensive to him. Sadly, there are many who agree with him. Smith goes on to say that though he has deep respect for Mr. John B. Wooten, Chairman of the Fritz Pollard Alliance and the black man who spearheaded the movement for the NFL to adopt such a policy, he's in complete disagreement with Wooten. He further attempts to paint a picture that the "older heads" (or older generation) including Mr. Wooten and others need to listen to the "younger heads" (or younger generation) such as himself and others when it comes to penalizing and fining NFL athletes for use of the n-word.
Moreover, although Smith seemed to have made a convicted argument as to why the n-word should not be a point of discussion or penalty, it needs to be pointed out that there are many capable and brilliant young heads who are not searching for pseudo-intellectual reasons to refer to themselves or any member of their race as n**ga. In fact, some young heads may have listened to that argument and heard nothing but ignorance spew from the mouth of a seemingly gifted speaker and well-educated African-American man. Some too may have immediately seen that Mr. Smith is a primary example of the systemic veiling of the populous, twisting of the black man's mentality to continue to argue for inferiority, and the working of the very essence of the 400-year-old plight.
In "The Mis-Education of the Negro", Dr. Carter G. Woodson said:
"If you can control a man's thinking you do not have to worry about his action. When you determine what a man shall think you do not have to concern yourself about what he will do. If you make a man feel that he is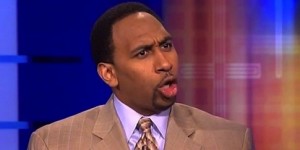 inferior, you do not have to compel him to accept an inferior status, for he will seek it himself. If you make a man think that he is justly an outcast, you do not have to order him to the back door. He will go without being told; and if there is no back door, his very nature will demand one." 
Stephen A. Smith may believe that he represents the voice of the entire younger generation, but he does not. It is a known fact that many younger generation parents educate their children on the term and view it as a disrespectful profanity. The term is forbidden as everyday language in many Black households across America, and cannot be used—not even when one wants to use the term as so-called endearment or to cut down the confidence of anyone. Even further, many African-American children are taught to not only refrain from referring to anyone as such, but should also not allow anyone else to refer to them as such. Respect is a two-way street: it must be given and received.
To the contrary, Stephen A. Smith only represents that fraction of society that continues to lean in and remain shackled in the darkness. The ears of the enlightened have listened to that commentary and yelled at or argued back with the sentiments made. However, their voices simply cannot be heard because they do not have access to the news media to espouse their beliefs as does a Stephen A. Smith and some other proponents of the n-word (n**ga). And when they do share their views, they are considered troublemakers, too sensitive, or disillusioned; because they tend to be met with so much conflict from within and without the community, many times their arguments are suffocated or the cultural in-fighting takes center stage more so than the actual issue at hand.
Younger generation celebrities like Stephen A. Smith are to be applauded for their individual achievements; however, Black America's paradigm should be to the commitment of the entire race's preservation as a group, and not limited to the success of individuals, which unfortunately is the mindset of Black America. Until Black African Americans, as a group, can learn to separate themselves from the n-word the shackles of mental slavery will always remain intact.
Another thing: By saying the "young heads" vs. the "old heads", Smith has promoted further separation within the Black community that is not going unseen—even Skip Bayless referred to this "cultural clash" within the Black community. The most unfortunate part is that, again, so long as the Black community remains divided, African Americans will never be able to re-unite, come together as a single being of force, and regain the cultural dignity and superior status divinely-granted upon the race. Instead, people like Smith continue to carry out the plight of White America ignorantly and unadulterated.
Now, truly, there is some agreement that a white-ruled NFL having to chastise black players for their use of the n-word is a bit brow-raising. The primary concern is that it should never have come to a white-run organization agreeing to help police the word if not for the Black community dropping the ball on this issue. Use of the n-word is a Black African-American issue, which should have been resolved within the community decades ago; instead, it has been allowed to fester.
By requiring the NFL or any other entity, organization or person outside of the Black community to regulate use of the n-word, smacks of paternalism. It is as if the Black community is unable to self-determine and self-regulate and, therefore, needs the white man to save them from themselves. Use of the degrading and demeaning term n**ga has grown far out of hand. In order for Black America to regain its full cultural respect and not have to expend its precious energy on such self-imposed issues—which in this case is really fighting over whose allowed to tell African Americans they cannot use the word (when NO ONE should need to be told because they should not be using the term in the first place), use of the term needs to be cut down dead in its tracks and buried by all.
Stephen A. Smith on a couple of occasions used the n-word on national TV and never got as much as a slap on the wrist for it. And as he openly evangelizes the support of the n-word, his spill is given full airtime—he's allowed to go on this rampage campaigning for use of the n-word with not one cut or edit. Conversely, most recently when he slipped and used the word "provoke" relative to comments he was making about the Ray Rice case and domestic violence, white women were offended by it. As a consequence, Smith was suspended for seven days from his job.
But as Wooten goes on his rampage about using the n-word, Black America does or says nothing. However, Mr. Wooten recognized that, sadly, since the Black community refuses to address the matter themselves and hold all members within and without the community accountable to upholding and respecting Black Americans, he was required to approach the NFL to demand the respect many self-respecting Black Americans deserve. Had Mr. Wooten not taken this step, the blatant disrespect would have continued to fester at an even more severe rate. The reality is that Black America refuses to address the issue and does not want anyone else doing it either.
Unfortunately, Black America, collectively, just does not get it. The community refuses to remove the DO NOT DISTURB sign outside its door, refusing to WAKE UP.
Use of the n-word today is trans-generational and is the one and ONLY reason why the term still flows from the lips of contemporary Black African Americans. Black users of the term are allowing themselves to be defined by a racist term as opposed to defining themselves, for the reality is that the term n**ga is simply ghetto vernacular for n**ger, obviously there ISN'T any difference between the two.  
Staff Writer; H. Lewis Smith
This talented brother is the founder and president of UVCC, the United Voices for a Common Cause, Inc., http://www.theunitedvoices.com author of Bury that Sucka: A Scandalous Love Affair with the N-Word, and the recently released book Undressing the N-word: Revealing the Naked Truth, Lies, Deceit and Mind Games https://www.createspace.com/4655015   
Also follow Mr. Smith on Twitter: http://www.twitter.com/thescoop1.