What!!!? Actor Will Smith to Produced the George Zimmerman Story?
(ThyBlackMan.com) Americannews.com,  Power105.1fm.com, and several other entertainment sites on the web are reporting that Will Smith's Overbrook Entertainment, which produced I Am Legend, Hancock, The Karate Kid, is producing the George Zimmerman Story, staring Smith's son, Jaden Smith, as Trayvon Martin. According to reports, the film is targeted to be released in the Spring of 2015 and George Zimmerman himself will be working on the film as a consultant for, get this – $3.2 million. When I first saw the report I couldn't believe my eyes.
.
We contacted Overbrook Entertainment to get confirmation on this story, but they referred us to their Publicist, Forty-Two West. The publicist indicated that they weren't able to either confirm or deny the story.
.
We find that quite astonishing, since this story has been out over 10 days, and it's spreading like wildfire all over the net. Since it's such a potentially toxic story, one would think that Will's publicist would be all over it by now unless they're totally incompetent. That's led this writer to believe that this may be a trial balloon to measure public response, or maybe they're beginning to feel the heat and they're backing off the project.
.
Should We Wait For Co

nfirmation

On Zimmerman Story?
.
It has been suggested that Will and Jada are out of the country, so we should wait for confirmation before we get too excited over this story. I disagree.
.
They have a multi-million dollar production company, a publicist, and staff. This story has been circulating for over 10 days and is as toxic as they come. How much time would it have taken anyone of those people to say that this story is ridiculous? Why are they being so tentative when contacted?
.
So it is important to treat this story as if it is true, because it may have been planted as a trial balloon to measure public reaction. Another reason is because we don't want to see George Zimmerman get a dime, and if we don't start going crazy RIGHT NOW, at just the hint that something this ridiculous is in the works, Zimmerman may just get his $3.2 MILLION, and they may move forward with the project.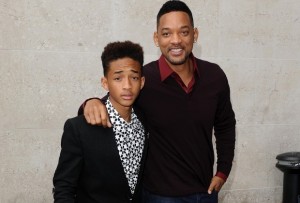 .
People have failed to consider the prospect that Will and Jada might just be out of the country so they won't have to confirm or deny the story? They're just letting the rumor float out there so they can measure our reaction. So let's give it to them.
.
If the story does turn out to be true, we have but one question to ask – is there no shame among people when it comes to making a dollar?  Just the hint of any truth to this story should bring the Black community to full attention. If this doesn't wake us up, we're in a coma, and beyond help.
.
If George Zimmerman had stalked, and then brutally murdered an innocent child from any other community, he would have had to leave the country and hide in a cave – and they STILL would have sought him out. But if this story is true, what do we do? We make him a celebrity and a multi-millionaire for brutally murdering one of our children. That's absolutely unbelievable – even for us.
.
According to reports, in response to this question, Smith is quoted as saying, "It's obvious that he's [Zimmerman] not America's sweetheart right now but his story is intriguing and it needs to be heard. Hitler wasn't popular. Does that mean his story is any less interesting? Of course not. Slave masters aren't popular but 12 Years a Slave was phenomenal. Wait until you see the finished product and judge for yourself."
.
That's got to be one of the biggest cop-outs I've ever heard in my life – it's insulting! First, Hitler wasn't rewarded with $3.2 million for killing Jews. So if Will Smith does decide to pursue this project the Black community needs to rise up and tell Mr. Smith the following, and in no uncertain terms:
.
"We don't give a damn about Hitler, and we don't give a damn about slave masters, but what we very much give a damn about is that you're making a disgusting brute who stalked and murdered one of our children into a multi-millionaire, and that's unacceptable.
.
"We're certain that if Zimmerman had killed your son, Jaden, you wouldn't have thought the story was so "intriguing," and "needed to be heard" so badly that you'd have made him a multi-millionaire to tell it. So spare us the bullshit.
.
"We know everything about George Zimmerman that we either need, or want to know. The only thing that will interest us about George Zimmerman is if something horrible befalls him, or the day he stops breathing. Now, that's not to say that we're wishing it upon him – at least, not all of us – but we're just being real here.
.
"So stop trying to insult our intelligence, Smith. While we're not rich – like WE made you – neither are we stupid. So you can make George Zimmerman a multi-millionaire if you like, but understand this – on the day that you sign that check, essentially PAYING him for murdering Trayvon, from that day forward, Mr. Fresh Prince, you're no longer one of us. We're going to ostracize you, spit every time we hear your name, and boycott any and everything your name is associated with. We're going to make an example of you, Mr. Smith, for all of your rich, and formally Black peers to see, because we're tired of this sort of thing – period."
.
There are many reasons why the Black community should take this outrage so seriously. Of course there's the obvious – it's inappropriate, insensitive, and a slap in the face of the Black community to pay George Zimmerman $3.2 million for murdering one of our kids. But it goes beyond that. It also places other Black people in danger. What's to stop some down-and-out bigot in one of those  "Stand Your Ground" states from reasoning, "Maybe if I go kill me a nigger I can make me a few million dollars?" But did Will Smith give that even a moment's thought? I don't think so. If this story is true, all he's thinking about is his own pocket.
.
Another reason the Black community needs to wake up and sniff this funk is because it's past time for us to get the attention of ALL of these millionaire celebrities who made their fortunes from our dollars. The Black community is in dire need of assistance in the form of jobs, investment in the community, mentors, scholarships, etc.  Yet, most of them are nowhere to be found. The only time we even see them is on television flaunting their wealth in our face.  It's time to bring that to an end. We've got to see to it that these people understand that if they want our support, it's going to have to be a symbiotic relationship. They're going to have to deliver some support back into the community. That's how other communities prosper, but for far too many Black people, having "arrived" means getting as far away from other Black people as they can possibly get.
.
So again, Will Smith, spare us the bullshit about "a story that needs to be heard." Yeah, we made you rich, but in spite of that, we're not completely stupid. You don't give a damn about Zimmerman's story. Since when have you been a connoisseur of history? Your intent is to make THE archenemy of the Black community a multi-millionaire so you can drag yet more dollars out of an already economically depressed community. That's unconscionable, brother, and we'll never forgive you for it. 

One of the big problems that we're having in the Black community is we're grouping people in the wrong way. We're putting our trust in people based on skin color, clout, and popularity rather than the qualities that we should be – character and class. Bigotry and injustice is not so much about race or color as it is opportunity. I learned that as a union rep in the post office. I found that you can take the most "down for the cause " brother or sister in a facility, and then give them a raise and a little power, and they'll become the biggest tyrants you've ever known.
.
I once won an EEO for a young lady who used to be crying on my shoulder every single day. As part of my resolution I got her manager fired, and got her elevated into management. Then, a month or two later I went to her office to discuss a problem that another employee was having. The problem was quite similar to the one I had addressed on her behalf. But when I walked through the door of her brand new office, she casually looked up and asked, "What can I do for you MR. WATTREE?" It was as though we were strangers – AND later, she used the new authority, THAT I HAD GOTTEN FOR HER, to have me followed around and spied on in an attempt to find a pretext to build a case against ME! She eventually came to herself, and we're dear friends to this day, but the tendency to be self-serving and corrupt is in all of us. The only difference between a good person and a bad person is the ability to recognize it in ourselves, and the desire to keep it in check.
.
I learned a lot about human nature as a union rep within the postal service, and one of the most important things I learned was, you've got to pick your people based on character, not skin color – and the Postal Service is a microcosm of the world at large. 
Staff Writer; Eric L. Wattree