Is the culture of 'Bad Girls Club' ruining the 'Black Girls Rock' mantra? An open letter to Oxygen Network.
(ThyBlackMan.com) Dear Oxygen Network: Lets talk!  I have a confession to make: I'am a 'Bad Girls Club' junkie. I am not proud of watching girls behaving badly, but it's one of those reality TV shows that makes me pause and wonder.  Which brings me to the reason for this 'Dear John' letter.   Like any other bad habit it started out innocently enough, and before I knew it I was knee deep into my 'Bad Girls Club' obsession.  For no special reason except really, I was fascinated by the young women you cast in your show who classified themselves as bad, and signed up to live in a house together with other bad girls. 
Now eleven seasons later, you give me '
Bad Girls Club-Miami,'
 and I must tell you Oxygen, that is where I draw the line.  The last episode I saw really had me thinking, and when words like: unbelievable, shocking, and bully, (to name a few) started popping into my mind, it became painfully clear that perhaps I needed to check myself into
'Bad Girls Club'
rehab.  More importantly, I felt that I needed to look at the woman (me) in the mirror and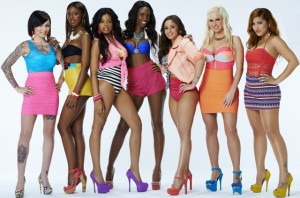 question my motives.  It was particularly disturbing to me when during one episode one of the girls in the house started having panic attacks, because she was afraid of getting jumped by the other girls.  
Despite all that, I still wanted to give you the benefit of the doubt. So I started to think maybe it's not the show, maybe it's me and maybe my perception is all wrong. I reasoned maybe these girls are not that bad, since they are acting. I thought no girl would for real shame herself for money, drink like she has no care in the world, and dance like a stripper on national TV for all to judge. Yes, my perception must be all wrong, and if I dig deeper I can find some kind of sisterhood between the girls. Sadly, I found none.  
It must be said Oxygen that your show is no longer all fun and games.  Your show does not help in trying to dispel the 'bad girl' image the girls you cast proudly portrayed. I say, it is no wonder that most people view a majority of African American women as ratchet, gold diggers, mean, and modern day jezebels. To illustrate,  in the November 2013 issue of
Essence
magazine I read an article about those same stereotypes. The magazine which features the most beautiful, educated and powerful women did a survey and discovered that most people, and the media stereotype most African American Women as
ratchet, gold diggers, mean, and modern day jezebels.  
To be perfectly honest, I was not surprised at all that most people thought of us (me) in those term, trust me I have heard it all before.  So, I ask you Oxygen, is your show promoting the culture 
of 'Bad Girls,' and ruining the 'Black Girls Rock' mantra for ratings?  
Still,  as disturbing as I now feel your show is, I couldn't help but to wonder if your show would have been as popular had your network shown women getting along, and doing productive and positive things.  What is the point, you ask? Well it's nothing new, except  that the negative portrayal of us 
(me) on your show must stop.  Here's a suggestion, please bring young women together to do amazing things. Why? Because we are capable, but more importantly I have daughters to raise. Further, show me something that build up self worth, and doesn't  require paid security guards on your set. While you at it maybe you can take notes from the 'Black Girls Rock' mantra which is, "…to build the self-esteem and self-worth of young women of color by changing their outlook on life, broadening their horizons, and helping them to empower themselves…"
In conclusion Oxygen,  let me end by saying this: I will no longer add to your ratings, and bottom line.  Meaning, this reality show watcher have officially checked herself into 'Bad Girls Club' rehab!  
Sincerely, 
A former 'Bad Girls Club' junkie!
Staff Writer; Kency Desmangles
One can also connect with this sister via Facebook;
K. Desmangles
.