Be B.O.L.D Against Bullying in Jacksonville.
(ThyBlackMan.com) Best of BOLD Parents is a part of the B.O.L.D. Project Afterschool Program at S.P.Livingston and Eugene Butler Middle Schools and is a program that belongs to the Boys and Girls Club of
Northeast Florida.   
The Best of B.O.L.D program at Eugene Butler Middle School and S. P. Livingston Elementary School is designed to be a unique collaboration with War on Poverty and the parents of Butler Middle and Livingston Elementary School.
Community collaboration is important to create positive change in the lives of children and families. Through the guidance of Jewel Flornoy (War On Poverty) and B.O.L.D Parent Organizer, Ms. Marcia Ellison PTA President of S.P. Livingston, the leadership of Principals and administration of both schools, activities are centered on creating learning opportunities that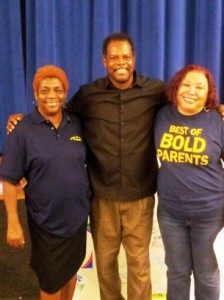 involve meeting the needs of parents not just in the school house, but in the
communities. Building a strong PTA that supports and encourages parental participation is important for schools academic and community strength. The Best of B.O.L.D is a growing model for other schools across the nation.
The STOP BULLYING NOW – STAND UP – SPEAK OUT event provided the B.O.L.D Spirit Team a chance to fire up over 100 students attending from Pre K to Fifth Grade. The program was Emceed by Ms. Roberta Goode, presentations were provided by Ms. Marcia Ellison, Ms. Latrece Humphrys and the students of B.O.L.D at S.P Livingston.
Bullying is a ongoing issue in schools nationwide, on buses and in communities,  there should be continued efforts to prevent Bullying and provide services to educate, empower and encourage youth from Pre-K to fifth grade and educating parents that Bullying should be reported so actions can be taken to stop Bullying.
Several tragic events in Florida and across this nation have shown that young lives are being taken away because of Bullying and Cyberbullying. Instead of just watching the statistics grow schools and school districts need to have professional development for students and parents.
Bullying and Cyberbullying is a reality for many children in schools across this nation. It will take more than laws; it will take more than speeches, it will take the collective efforts like War On Poverty, B.O.L.D, PTA organizations and individuals like William Jackson an educator, blogger, and community activist to make a difference. The opportunities of Cyberbullying can happen where children and teens have unmonitored access to Social Media that allows the behaviors of Cyberbullying to happen on Social Media platforms.  
No parent ever wants to consider their child as a Bully, but the reality is children, kids, teens and young adults are Bullying and Cyberbullying with dangerous results.  Parents need to monitor their children's actions in school, online, on buses and in classrooms.
Parents must be proactive and communicate with their children high expectations of good behaviors; parents should observe behaviors, mannerisms, changes in eating habits, mood swings and  importantly communicate with teachers and administrators. Signs that parents
need to observe and question are in changing behaviors.
The Best of B.O.L.D is just one organization that is involved in schools, there needs to be more and additional support in the community, from educators, administrators, guidance counselors and importantly parents.
B.O.L.D has conducted several Bullying trainings for parents provided by William Jackson, he has a passion for preventing Bullying, Cyberbullying, harassment, and other forms where children feel threatened and fearful. STOP Bullying Now efforts should grow with the help of attending organizations like Jacksonville Public Education Fund, Boys and Girls Clubs, War On Poverty, Habitat for Humanity and New Town Success Zone, organizations working to raise the learning levels of students, provide parents more opportunities to be involved.
B.O.L.D has worked with parents and students to continue to send a message through the building of a mural made from tiles, each tile was designed to send a positive message that will resonate throughout the school as it hangs honorably at S. P. Livingston.


Staff Writer; William D. Jackson
Find out more about this talented writer over at; OCS For Education.
Also check out; http://www.About.Me/WilliamDJackson