Black History: Dr. Edward Robinson – A scholar with an African mission.
(ThyBlackMan.com) My offering to Black History Month is dedicated to a man whom I knew and by whom I had the pleasure of seeing history being made right before my eyes. His words rang out in prose and song on the initial occasion of our meeting in Philadelphia in 1999. On many occasions thereafter, I was blessed to share meals with him, listen to his speeches, learn from his wisdom, and enjoy the splendor and "shade" of this tall, deep-rooted, majestic tree known as Dr. Edward Robinson (1918-2012).
Not as well-known as other Black historical figures but equally important, Dr. Robinson is known for his unrelenting dedication and commitment to teaching the history of the African continent, with a very special emphasis on assuring that our young people know and appreciate their African history.
Far be it from me to make any attempt at telling the Dr. Edward Robinson story in its entirety. His wife, Harriette, along with folks like Bob Lott,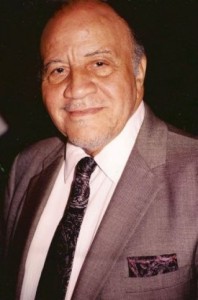 television producer and director, Ali and Helen Salahuddin, founders of the d'Zert Club, and too many others to name are far better suited to tell his story. But my limited knowledge of this giant will certainly not limit everyone from knowing more about him because there is an upcoming television docudrama on his life and work planned to be released in the summer of 2013.
Co-author of the book, Journey of the Songhai People, Dr. Edward Robinson always emphasized the importance of Black people dealing with the problems we face rather than their symptoms. One major problem he always reminded us of is that we (and others) have been programmed to hate everything African about ourselves. He worked hard, through writing, lecturing, and film to teach us African history; he had a unique sense of self-love and an exceptional ability to connect with people. His mantra centered on "race esteem" among Black people.
Robinson believed very strongly in African centered education and worked for years to get the curriculum he developed taught in the Philadelphia public school system. As a result he was successful in making the teaching of African history mandatory for the 180,000 student population.
Mentor to brothers and sisters of all ages, Dr. Edward Robinson always made time to assist others with their programs, projects, and initiatives. He was a central figure in the formation of the MATAH Network, a Black owned and operated national distribution company, founded in 1996 by Kenneth Bridges and Al Wellington and comprising thousands of members across the country. Robinson was unapologetically African centered and worked every day to share his knowledge with his protégés and the general public. To that end he developed and nurtured relationships with individuals and organizations, which propelled him to prominence in a variety of local and national educational, economic, professional, and social circles.
An author, vocalist, corporate CEO, professor, and teacher, Ed Robinson is definitely someone you should know, not only for Black History Month but for the rest of your life. And you should teach your children about him as well in an effort to replicate and sustain the work he began. He understood how important it is for us to love ourselves, to value ourselves, to respect ourselves, and to learn about ourselves. He understood more than most the power and importance of self-determination and defining ourselves rather than allowing others to define us.
For the majority of his 94 years Dr. Robinson worked toward one goal: To effect a positive change of attitude toward the ancestral value of people of African descent by the total world society by dramatically exposing the beauty, grandeur, and sophistication of ancient Egypt and the Songhai Empire.
The eloquence of his speeches, the haunting lyrics of his songs and his Robeson-like treatment of them, his warmth and humility, and his love for Black people are indeed worthy of our remembrance and emulation not only during Black History Month but forever. Robinson's stature is similar to that of W.E.B. Dubois, Frederick Douglass, and Marcus Garvey, just to name a few. We should attribute to him well deserved acclaim by celebrating his life in prose and in visual media, which he so strongly believed was the key to our learning, and lift up and preserve for our young people yet another positive role model of Black History.
There is and African aphorism that states: Until lions have their own historians, tales of the hunt shall always glorify the hunter. Dr. Robinson was a lion and we must be his historians; we must tell his story; we must glorify this lion – our lion – because the hunter never will.
The soon to be released video docudrama, produced by Bob Lott, a long time and very close friend of Dr. Edward Robinson, will initiate the process of glorifying one of our lions. It will also open our eyes to a giant of a man who dedicated his life to raising awareness about the beauty, intelligence, and strength of ancient African empires. Most importantly, the portrayal of Dr. Robinson's work, passion, and knowledge will give us direction on how to break free from the bondage of psychological enslavement. See http://www.drrobinson.org for more information on the life of this Elder.
Written By James E. Clingman
Official website; http://www.blackonomics.com/