Gabby Douglas, Well Timothy Douglas Was a Deadbeat Dad After All?
(ThyBlackMan.com) The debate about Olympic Champion Gabby Douglas and her father Timothy continues.  A recent article in Newsone questions whether or not Douglas was there for his daughter or not, and there are other reports stating that Timothy Douglas was not the doting father that he appeared to be when showing up to cheer his daughter on at the Olympic Trials.
"There's a feeling that you can't describe," the elder Douglas told USA Today after the reunion. "I just missed her so much.
"There's an exuberance," he continued. "Sometimes, when she had a rough time, I'd tell her to hang in there. 'You know what it takes to be a winner, you know what your goals are. You just keep on your goals.' Some things that I tell her I have to remind myself. Those are all things we can all abide by."
The father's portrayal of the relationship doesn't match the one being reported by some media outlets who've quoted Gabby Douglas as saying a bit of the opposite.
"It was really hard for us growing up—my dad had left us, so he wasn't really in the picture anymore," Gabby Douglas said to the New York Post.  "So my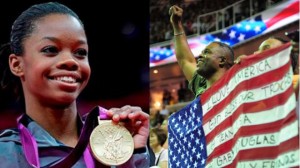 mom had to front all these bills. My dad didn't really pay the child support. He was short [on money]. It was definitely hard on her part, and she had to take care of me and the rest of my siblings."
Clearly, these quotes imply that all was not well in the Douglas household.   It may have indeed been the case that Timothy Douglas was negligent in his responsibilities, and left his family to suffer and die.  At least that's the story that media would like for us to believe about black men in general….we all hate our children.
But one thing I've learned as an 18-year veteran of the Child support system is that all is not what it appears to be when it comes to raising children.  Often, people misinterpret the father living someplace else to mean that he doesn't care.  They might also interpret his financial struggles to mean that he doesn't want to pay child support.  All the while, the legal system doesn't question what the custodial parent (usually the mom) does with her own money or require her to come up with a monthly dollar amount to prove her love for her children.
While Gabby Douglas has become the defacto media authority on all of the subtle dynamics of her parents' relationship, I would argue that it is quite possible that a 16-year old child might be a bit biased by her mother's point of view.  Her parents were divorced when she was young, and her mother's disappointment in a failed marriage may have led her to say things about Gabby Douglas's dad that biased her opinion at an early age. While a father can do all that he can to give an alternative point of view, I can say from experience that it's damn near impossible to get a child to see you in a manner that is different from the image that has been painted for her every single day of her life.
Perhaps I am wrong on this, but from what I understand, it's not nearly as difficult to collect child support from members of the United States Airforce as it might be for regular citizens.  The parents are easy to find and wages can be garnished.  So, the claim that Gabby's dad "didn't want to pay child support" might be countered by the possibility that her father (similar to her mom) had financial challenges that made it difficult for him to pay child support every month.  If it's not a crime for Gabby Douglas's mom to declare bankruptcy (as she did), then it's not a crime for her father to struggle financially.
I am not here to say that Timothy Douglas was a model father or perfect citizen.  I am here to say that in most failed relationships, there are two parties that both make decisions.  The tired narrative of every black man abandoning his kids like an animal in the woods doesn't apply to most of us, for we are every bit as capable of loving our children as anyone else.  Also, every mother who keeps her kids in the household is not an automatic superhero.  Some are just as flawed as the men with whom they chose to procreate – that's why they chose to sleep with these men in the first place.
Perhaps instead of believing what we are told to believe, we should think about things logically.  Gabby Douglas is a kid with a biased perspective who (like most of us) knows very little about the inner workings of her parents' relationship.  Gabby Douglas only knows that her dad wasn't in the household and that her family struggled financially.  She probably didn't see the checks that were coming to her mother to pay living expenses for the home, and she doesn't know who caused the divorce that ripped her family apart.  All Gabby Douglas knows is that it was tough growing up because things didn't work out with her parents and that the judge gave custody to her mom. That hardly, in any state of the world, proves that Timothy Douglas never loved his child.  After all, he did fly 10,000 miles to see her.
Staff Writer; Dr. Boyce Watkins