Four Olympic Events – United States Will Win Gold – London Games.
(ThyBlackMan.com) I must admit that I am an unabashed American sports snob. Proud of the Red, White and Blue, I want to see America's Olympic athletes win gold in every event but know this unfortunately is not possible. What I feel like I do know is that we, Yes I said we, are shoe-ins for gold in four featured events and I would like to get all of my chips on the table now before the games officially begin (soccer matches have started a few days early in order to get in a full tournament). Here now are my gold medal locks for the United States. May the force be with us (that and the fact that we had previously won gold medals in these events in either or both of the previous Olympic Games):
1) Women's Soccer. The United States Women's National Team is going for their third consecutive Olympic gold medal and looks to be in good shape thus far despite a 3-2 victory over France on July 26. The U.S. quickly went down two goals before dominating the rest of the match. Next they face Columbia in Group D. Good luck Columbia you're going to need it.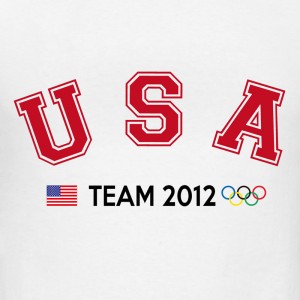 2) Men's and Women's Basketball. I combined the two because the United States is so dominant that it would not be fair to list them separately. Forget the Dream Team comparisons, the 2012 Men's National Team is as much a lock for the gold medal as Magic, Michael and Larry were 20 years ago. Their better halves are even more dominant and looking even better. Both clubs have gone undefeated during their exhibition tours and WILL WIN GOLD this summer.
3) Women's Tennis Singles. Serena Williams at Wimbeldon. DUH.
4) Women's 200 Meters. Alyson Felix failed to qualify for the 100 meters during the U.S. Trials but is the prohibitive favorite in the 200 meters. 
I also expect American's to medal in 100 meters (male and female), Tennis doubles (the Bryan brothers have won titles at Wimbeldon), and most importantly (or at least to this former college cross-country runner) in the Men's marathon. American hopeful Ryan Hall looks to be our best bet for a medal. The U.S. will most likely lead the overall medal count when all is said and done. The world's sports super power will once again prove it's might. China can have the math crown for now, it's Olympic time.
Staff Writer; Donnell Suggs
One may also connect with this talented writer via twitter; Suggswriter  and also facebook; D. Suggs.