Queen Latifah Plans to Adopt.
(ThyBlackMan.com) Dana Owens better known as Queen Latifah is a singer, rapper, model and an actress. Queen c first came on the scene in the late 80's at the age of 19. She has worked not only in music and film; she also has numerous awards such as the Golden Globe, the Screen Actors Guild Awards, and image awards along with a Grammy.
Now it appears that she can add mommy to the list.  Yes Queen Latifah has plans on becoming a mom.
During a visit with ABC's talk show The View, Queen Latina revealed to the ladies that she's considering starting a family of her own. When The View's co-host Barbara Walters asked the Joyful Noise actress if she would ever adopt,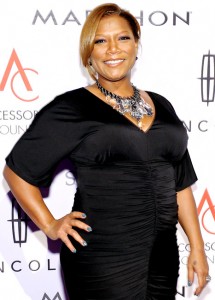 Latina told Walters, "I'm actually kind of working on that."
Walters continued to ask Queen Latina about the adoption rumors. Latina went on to say, "I'm totally serious.  So if you got a kid that you don't . . . Just give me a year — let me set up camp and send me the kid! But no, no, totally."
So it seems that Queen Latina will be starting a family regardless of her relationship status and the ongoing speculation regarding her sexual orientation. She's also joining the likes of many other Hollywood celebrities that are known for adopting black babies, particularly from the Motherland. Brad Pitt and Angeline Jolie who adopted Zahara from Ethiopia and they also have two other non-black children that are adopted. Then there is also Madonna's controversial adoption of little David Banda from Malawi a host of other celebrities.
With the popularity of white celebrities adopting black children it is no surprise that some black folks are not too happy with this new movement, leaving some to wonder and even debate if this is something that more blacks should be embracing.
From unverified sources In March 2012, it was reported that Latina planned to adopt her first child from Africa. This leads me to wonder if she is going to follow suite with the movement of white celebrities adopting black children from other countries. 
Possibly Latifah will go a different route and adopt black children here in the United States that are in need of a loving home. Either way if she adopts from the states or overseas she deserves to be commended on inviting any child into her life and giving them a good home and a loving family. 
Staff Writer; Eleanie Campbell
Also connect via Facebook;
ThePU
.