Black Women, Who are your Role Models Now?
(ThyBlackMan.com) So….these are our girl's "role models"…really? Let's see who we have here….
1. Kandi Burruss, while she is a very talented singer and songwriter, what is she RECENTLY known for? Oh yes….Bedroom Kandi the new SEX TOY line she has out. Just what little girls need to know…how to properly use a vibrator…..
2. 
Tamar Braxton, who CLEARLY needs to read, memorize and put into application Proverbs 21:19 ("
It's better to live alone in the desert than with a quarrelsome, complaining wife
") and Proverbs 21:9 ("
Better to live on a corner of the roof  than share a house with a quarrelsome wife
") because she is the EPITOME of a nagging and complaining wife. During several episodes of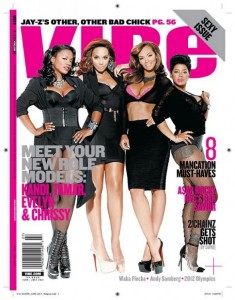 "
The Braxton Family Values
" her own husband would just walk out the door when she started running her mouth. She also comes across as very superficial and self-centered…yes….those qualities sound wonderful for our girls don't they?
3. Evelyn Lozada where do I begin with this one? She is VERY immature; her vocabulary doesn't extend beyond curse words. She is a bully, throwing bottles of wine, preying on weaker "cast mates".  She brags about her sexual conquests and her own "man" has often told her he  is only marrying her for her money and because the sex is good. He also referred to her as the "last slice of pizza that nobody wants". Don't you just want that for your daughters? To be the one that "nobody wants?" I mean that's every mother's dream isn't it? I  saw a recent TV clip and Evelyn said something to the effect of " I know I am immature, I know I have a daughter that is almost grown, I know I am almost forty, and I don't care about any of that", yes we know, that is quite evident.
4. Chrissy Lampkin, another bully on "Love and Hip Hop".  I mean what kind of "grown" woman waits outside of a club to fight another woman, and on top of that practically BEGS her man to marry her! Yes  young girls, beg  a man to make you his wife, don't REQUIRE marriage, instead perform all the duties of a "wife", live with him for several years then talk about marriage….that's not a backwards approach at all.
So help me understand…THESE ahem "WOMEN" are supposedly the role models for our young girls? These women that are dressed in a provocative manner, where only ONE is an actual wife,  some of the women have had plastic surgery…so that will teach our girls not to love the way God created them, they can always go get breast implants, a nose job or a little nip tuck to be more appealing to men.
Let me tell you the only "roles" this group of women knows. They know how to play the role of a wifey real well. They know how to play the role of a bullying baller chaser man hunter down to a T. They know how to play the role of a sexually charged woman down pact.
Role models should start in the HOME FIRST. As Mothers, we should be the best role models for our daughters. We should teach them what a Black Woman REALLY looks like, how a Black Woman carries herself. We should teach them that an educated Black Woman is far more appealing than a scantily clad one. Our daughters should know of Black Women that actually contributed something POSITIVE to our history. Black Women that actually stood for something, versus lying down on their backs.
  These are the type of women that I will teach my daughters NOT to be like.  I will use them as examples of what NOT to do, how a Black Woman should NOT conduct herself. This is what the new face of Black Women looks like? Please! As a Black Woman, I find this magazine cover HIGHLY offensive.  These are the type of women that our daughters are emulating? These types of women are why our young girls suffer from low self-esteem and self-worth, and have distorted body images as young as the age of NINE! These types of women are why our young girls become promiscuous and barter their womb for room and board in hopes of becoming famous. Role models? I think NOT. These women are nothing but reality TV prostitutes, and all they will teach our daughters if WE allow them is how to trick out their wombs. The best lessons are taught in the home, let lesson number one be cutting the TV OFF.
Staff Writer; Nojma Muhammad
To learn more about this talented sister, feel free to visit; Nojma Reflects.