Video Vixen Melyssa Ford guest speaker at NAACP Convention.
(ThyBlackMan.com) You can imagine the shock in my face when I saw a recent invitation to the Leadership 500 Summit, sponsored by the NAACP.  On the list of featured attendees was video vixen Melyssa Ford, whose website shows that she enjoys "leading" young women to make money with their body parts.  Also on the list were representatives of Wells Fargo, the company responsible for the largest predatory lending scheme in the history of the United States, with many of those victims being black and brown.
So, it seems that between Melyssa Ford and Wells Fargo, the NAACP has no problem hanging out with those who've screwed half of the black community (pun intended). I don't want to be presumptuous in the case of Ms. Melyssa  Ford, but I'll have to confess that I am suspicious of any black leadership summit speaker who poses for pictures booty-first.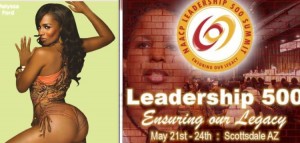 The appearance of Melyssa Ford as one of the featured guests at the NAACP event signifies a new era within the organization.  The words "I have a dream" might still be uttered by every NAACP attendee who takes a visit to Ford's website, but the meaning might be different from what Dr. King intended.  Attendees may have also once had a dream of home ownership, only to find that this dream was squashed by companies like Wells Fargo, who've bought their way out of any potential backlash whatsoever from the nation's largest civil rights organization.
No disrespect to Ms. Melyssa Ford, but I can't help but wonder what the former host of "Lifestyles of the Phat and Phabulous" has done for civil rights which calls for her appearance as a featured guest at a major NAACP event.  Is NAACP President Ben Jealous going to return the favor by appearing at a strip club?
It seems that there are times when we get excited about the fact that someone is famous without caring about WHY they became famous.  We congratulate others for being wealthy without taking a second to scrutinize how they obtained their wealth.  This is no different from those who applauded drug dealers for giving away turkeys at Christmas as they paid for those turkeys by selling pre-packaged death within the African American community.
NAACP Chairman Roslyn Brock starts off a very compelling video on leadership with the words "Courage will not skip this generation."  Included in Brock's mandate for courage should be those willing to speak up when our leading civil rights organizations parade women who make a living by allowing a sexist industry to exploit their bodies.   I doubt that the NAACP would consider it a victory if the adorable young women featured in their video grew up wanting to be the next Melyssa Ford.  If that's the case, then these girls are already getting their "leadership training" from Lil Wayne and BET.
The NAACP is a powerful and historic organization which maintains a degree of relevance to the black community.  But the idea that we should take money and form partnerships with the highest bidder does not liberate the African American community, it only further enslaves us in a capitalist society. 
Appearances by video vixens, predatory lenders, three-legged monkeys and circus clowns only serves to undermine the sacred purpose for which the NAACP was founded.  Most of the board members of the NAACP are fully aware that there is nothing black children can learn about leadership from either Melyssa Ford or Wells Fargo, for both parties are there to cleanse themselves with the NAACP's reputation, polluting the civil rights agenda in the process.
Perhaps it's time to wake up and smell the stupidity.
Staff Writer; Dr. Boyce Watkins