The Help/Red Tails – Hollywood's Passionate Penchant for Race Baiting Storylines…
(ThyBlackMan.com) The 2011 winner of the "Most Controversial Movie" award proved to be a big winner at last night's SAG Awards. The Help snagged statues for best ensemble cast, best actress, Viola Davis, and best supporting actress Octavia Spencer. In Spencer's acceptance speech she thanked the women, like the one she played in The Help, for allowing her to stand on their shoulders to be apart of the movie and win the award. Spencer's words were genuine. They were heartfelt. Yet they also shed a glimmer of light on how Black actors and actresses are treated in Hollywood. Only good enough to play a multi-dimensional maid whose storyline begins and ends with the trials and tribulations of discrimination, prejudice and of course racism.
As of late this dialogue has been heightened due to the release of Red Tails.
[youtube XRQA0d4-vCA]
Love it or hate it the movie about the Tuskeegee Airmen's role in World War II was a passion project made possible by George Lucas and George Lucas alone with The Boondocks creator Aaron McGruder aiding in the screenwriting. The movie from the names alone should have been sharp and flashy, ascerbic, biting, yet still offering an entertaining yet thought provoking dialogue. The movie released was anything but.
Some in the Black community say it's because Hollywood execs feel the need to dumb down Black characters to make them go over well with White audiences. Hence Viola Davis's drawn out "you is smart, you is kind" scenes in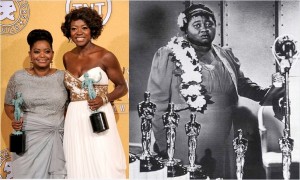 The Help that made everyone remotely familiar with proper grammar and sentence structure cringe. I say it's because Hollywood doesn't know how to tell any other story.
The film industry exploded out of the genre of minstrelsy and vaudeville, blackface and slapstick humor, shame and a new way of life. What Hattie McDaniel began in 1940, Viola Davis and Octavia Spencer may continue in a month. Between the three there isn't much variation in the types of roles Black women have been nominated for.
1991: Whoopi Goldberg wins Best Supporting Actress in Ghost. She was asexual, dramatic and the mammy type figure sent to reunite Patrick Swayze and Demi Moore
2001: Halle Berry wins Best Actress in Monster's Ball. A tragic mulatto who turns her world upside down when she loses everything and seeks out a comfort in a racist White man who didn't know what to do when Leticia worked her Black magic.
2006: Jennifer Hudson wins Best Supporting Actress in Dreamgirls. She is everything an angry Black woman could ever be. And she can sing too. Hello Sapphire.
2009: Mo'Nique wins Best Supporting Actress in Precious. Angry Black Woman victimized by a failed government system yet dependent on it. She's every bit the welfare queen.
Of all the Black women who have thanked God, their mothers, the Academy and other Black women whose shoulder's they stand on, they have all had one thing in common. The kinds of roles they were cast in that were majority safe and therefore viable for awards.
Black Actresses and actors in Hollywood play the few roles given to them but nothing that will transcend them. I can't be mad at Thandie Newton being given the chance to play an Igbo woman in the film Half of a Yellow Sun when Angelina Jolie was allowed to play a Black woman in A Mighty Heart and is on tap to play the lead role in yet another White washed version of Cleopatra.
Black actors, actressess and audiences have long ago settled for if it's Black it'll be alright and we'll see it anyway just in the hopes of getting something good. As of late that "something good" has been MIA. Once upon a time John Singleton was the go to director for the hood tale with a twist and a moral: Boyz N the Hood, Poetic Justice, Higher Learning, Baby Boy. He even tackled history in Rosewood. Yet his last film starred Twilight hottie Taylor Lautner in Abduction.
Tyler Perry and T.D. Jakes is what passes for "quality" Black film around these parts with a few sprinklings of some brand new not so newbies given a shot on the off chance something good may come about: Sanaa Hamri: Something New, Just Wright. Salim Akil: Jumping the Broom. Gina Prince Bythewood: Love & Basketball, Secret Life of Bees. Yet these movies by these directors are so few and far between the breath of fresh air they breathe into the debate about the role of Blacks in Hollywood is so short lived that the void they leave leaves the entire community much worse for the wear. There's nothing like seeing hope in matters of cultural significance and then seeing it disappear with as sudden of a quickness as it came.
Regarding Red Tails and the state of Blacks in Hollywood, Spike Lee's co-writer James McBride (The Color of Water) on the film Red Hook Summer penned an open letter entitled "Being a Maid."
McBride writes:
"…it's the same old story: Nothing in this world happens unless white folks says it happens. And therein lies the problem of being a professional black storyteller– writer, musician, filmmaker. Being black is like serving as Hoke, the driver in "Driving Miss Daisy," except it's a kind of TV series lasts the rest of your life:…

…This is what happens when you walk through a supermarket and hear muzak playing ninth chords borrowed from your history; when you see instructions books made from the very harmonic innovations you created, and in my case, when you spend a lifetime watching films that spoof your community. Your entire culture is boiled down to greasy gut bucket jokester films, pornographic bling-rap, or poverty porn. 

I used to think that if only there were a peaceful way, we could make Hollywood listen to the sound of America's true drumbeat: the voices of working class poor, blacks, Asians, Latinos, Native Americans, and the so-called rednecks of this country; the people that walk the land, work in the K-Marts, run the fast food joints, drive the trucks, stand in line at 4 a.m. for the i-phones, go to church for redemption, and sell the knockoff s on ebay. But the new breed of Republicans have taken that high ground. They've gotten rich off it. That leaves me with nothing but the notion that Washington and Hollywood may be just alike. They're engaged in a cultural war. They take your gun and use it on you, and it makes you sorry you drew your gun in the first place. It makes you wish you were a maid."
But being a maid is no better than being the butt of cultural jokes when it is your culture that is not being made fun of but celebrated. Imitation still is the sincerest form of flattery, is it not?
With Hollywood preparing to come full circle on its handing out of Oscars to Black actresses who play maids it's past time Hollywood get over itself and realize people of color have more than stories of just pain and joy. Those are only two emotions out of a myriad of many. I applaud Viola Davis and Octavia Spencer on their nominations, and I hope their wins, but at this point I don't need to see another actress of color in an ugly polyester uniform with white stockings and orthopedic shoes unless they're remaking Maid in Manhattan where Prince Charming is real and the fairytale comes true.
I'm over and I'll take the lead and make the assumption all Black people are over stories where the characters fall into typical archetype patterns with no room for growth, no room for variation, and no room for nuance. There is more to Black America and Black history than triumphs over prejudice, civil rights, racism and discrimination. There is more to Black America and Black history than watered down tales from the hood that do more to glorify how hard it is out here for a pimp than it does to signal that maybe this isn't the life road you'd like to travel. There is more to Black America and Black history than Soul Plane and Madea's Big Happy Family, there's more than The Help, The Blind Side, Precious and For Colored Girls and there's more still than Jumping the Broom, Waiting to Exhale, How Stella Got Her Groove Back. There is more than Sapphire's and Jezebel's, Mammy's and Welfare Queens. There's more than bucks meant to breed, coons and sambos. There's more than slick talking pimps and neck rolling bitches. There's more than wise old women and cantankerous old men. There's more than the stereotypes that have persisted since D.W. Griffith.
It's time for a Re-Birth of a Nation where the storylines have depth, the characters are realistic and the final message is more than just overcoming but one of love and acceptance as it is realized our place in America's cinematic history is not primitive and terroristic but rather telling of the present and all the way futuristic.
Do you think the role of Blacks in American film history can ever be transformed?
Staff Writer; Nikesha Leeper
To connect with this sister feel free to visit; Change Comes Slow.