Kwanzaa Day 3 – UJIMA – Collective Work And Responsibility…
(ThyBlackMan.com) On this, the third day of Kwanzaa, we celebrate the principle of Ujima, Collective Work and Responsibility. Today we renew our efforts to build and maintain our community, while working with others to solve our problems.
In traditional Africa, and the Caribbean, and the South, when farmers work together to clear the land, and bring in each other's crops, they demonstrate Ujima. When immigrants form small, tight-knit groups for circulating money called "partners" or "boxhand" or "susu" or "ekub," they exhibit Ujima too.
When friends are moving, and you and the others all pitch in to help them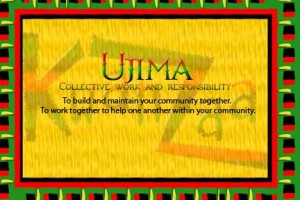 move – and at the end of the day, sit down together to a huge home-cooked meal – that is Ujima, Collective Work and Responsibility. When students in class work together on a project, or help each other with their assignments, the spirit of Ujima is also there.
When the city snowplows miss your street and everyone pitches in and shovels out the block, both the street and the sidewalks too, we call that Ujima!
When the neighbor cuts his grass and yours too, and you babysit his daughter, and he drives your son to school when he missed the bus, that is Ujima too. Just like when the college kids on the block tutor all the children in sight and mentor them too.
And on the court, when, the ball freely flows from player to player, effortlessly, selflessly, until one clearly has an open shot, "Ujima!" is the sound of the ball snapping through the net. And when a band is jamming, whether in the basement, on the corner, or up on stage, you'll always hear one instrument wailing a piercing, plaintive note, "Ujimmaaaa…" it seems to cry.
Collective Work and Responsibility! We are all individuals, and we must recognize our individuality. But we are also a people, a community, a whole, living thing that moves as one, to the extent that we allow, no will, it to be so!
Staff Writer; Arthur Lewin
This talented author has just published a NEW book which is entitled; AFRICA is not A COUNTRY!.