Rapper Common Music Review: The Dreamer, The Believer…
(ThyBlackMan.com) Hip Hop in 2011 was not all that hot; the usual names dropped albums, and there were too many defunct mix-tapes released. Let's just say that the best always finish last. And, Common –aka- Common Sense made sure that he did just that with his ninth studio album entitled, The Dreamer, The Believer. First, when speaking of this talented artist you have to give him credit for being an evolutionary rapper. Not only has Common produced albums with reverence, he is an accomplished author and actor. There are many who have tried, but this artist makes it happen and does it with class, style, and with good intentions. The Dreamer, Believer is one of the best albums released in 2011.
Common went back to his roots with producer No I.D. and they created an exceptional album. The artist tells BOOMBox that this album, "It's going to be positive hip-hop. Hip-hop that can really generate good spirit, the spirit of the music and just good energy. I'm excited about the album 'The Dreamer, The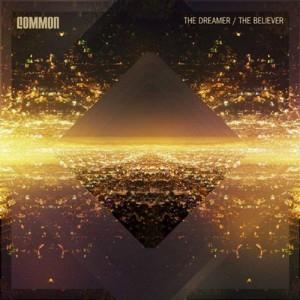 Believer'." Common is known for making conscious music and he keeps true to his stylistics and gets a blessing from Maya Angelou on the album to open it up.
Ghetto Dreams was the first single dropped on the album back in October (2011) and features Nas, another great in hip-hop. Their track/video has been viewed by over million fans on Youtube.com. The second track released off the album is entitled Blue Sky and Common makes sure that fans understand that what he has done and will do is ordained by the heavens. The rappers chimes that the sky is his, "eye-line."
Common has been doing this for a long time and is a massive force on the microphone. If you are a true fan of hip-hop then you know that the art form started out with rappers challenging (calling out) their nemesis. Common does this well and brings it back to the forefront on the track, Sweet. He calls out all of the rappers who are singing today on their records and considering themselves R&B stars too. Of course, the first name that comes to mind is Drake when listening to the track. Common goes on to say that if you have decided to start singing in hip-hop then you need to sit your azz down, because you are not Frank Sinatra!
No I.D co-wrote the entire album, and it shows that these two are a perfect fit for each other in hip-hop. Common does a great job of showing why these two mesh on the track Cloth. He talks about females that he once had, however if know Common's music, it is an ode to one of his most famous tracks, Hip Hop I used to Love Her. Common has always stood up for women and the positive attributes about them. He once again puts them on a pedestal including his daughter in which he references endlessly on Windows. The artist states that this particular female he is thinking about, "She was a beautiful rose…from the concrete."
Fans will be thankful for John Legend's blessing on the track The Believer, and Common's father comes back for another round of advice to give the masses. Though Common has entered in to new dimensions regarding his stance in music, acting, and literature, he still has remained to true to what he does best: rapping.
Rappers today are talking about money, women, and false dreams. Common, brings it all back to what hip-hop started out with—the truth. The Dreamer, The Believer is a great album to end 2011 with and should be in your discography.
Listen to a sample of the album here.
Associate Editor; kYmberly Keeton
To learn more about this talented writer feel free to visit; Kreative Young Millionaire, Inc….
Need a website or blog? Head over to; Kym K Balance Network.