Piri Thomas: Every Child is Born a Poet…
(ThyBlackMan.com) Piri Thomas was born in 1928, in the El Barrio of Spanish Harlem. He was an accomplished poet, author, youth counselor, and speaker. The poet didn't have an easy life and decided to change his name from Juan Pedro Thomas after living his entire young adulthood in prison. In the PBS documentary, Every Child is Born a Poet, produced by Jonathon Robinson, the author takes viewers back down memory lane and gives some validity of what it meant to be poor and given a second chance in life.  Thomas told a group of young men in prison within the first ten minutes of the film that it is important to know in life that, "You got to have faith," to overcome obstacles.
The young poet was born to a Puerto Rican mother, and his father was Cuban, by way of Puerto Rico. When they arrived in New York City, both of his parents wanted to have a good life and protect their children. Needless to say,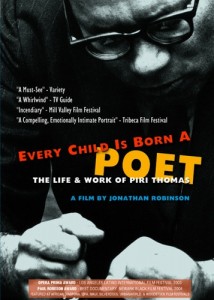 their lives were entranced with poverty. Thomas stated in the documentary that he remembered playing marbles with his friends and would look at the gutters that sat at the edges of the streets. The gutters were dangerous in his opinion and depicted a sense of disparity. In the 30s and 40s Piri Thomas believed that everyone was poor until he saw images of white people on television.
Every Child is Born a Poet, depicts the poet's life in an artistic way that captivates the mind. There is one segment in the film where he talks about the love that he had for his father. Piri Thomas describes a moment when he stole something and had to learn a major lesson through discipline. He says the moral of the story was, "Don't be taking what don't belong to you." The Puerto Rican author also acknowledged that he had an identity complex during his teenage years. The film does an exceptional job of visualizing an example of what he went through with his siblings and how they felt about their own race.
Piri Thomas had darker skin versus his brothers and sisters. One day he and his brother talked about the subject of race and the young poet proclaimed that he was a "Negro." His younger brother stated that he was not black and would never accept that part of his heritage. Thomas became enraged and beat his brother up out of frustration. They never had another conversation about race—Piri Thomas accepted who his was and his color of skin. Poetically, Thomas speaks with authority, assurance, and clarity in the film about many issues and allows the viewer to be entranced in his greatness as a performer.
He never wavered about his upbringing as he talked about his life to young men who were incarcerated at the time when the film was produced. As an ex-con Thomas spent his entire young adulthood in prison. After robbing a store, Piri Thomas was given seven years to serve in prison. During his time in prison, the disgruntled young man started to write about his life in the form of poetry, prose, and short stories. He was released at the age of 27 years young and decided to turn his life around. Upon leaving prison, the poet changed his birth name, because he felt that it carried to many burdens and memories that he wanted to forget. The writer, started a family, and held down a job as a foreman.
In 1967, Thomas decided to write an autobiography entitled, Down These Mean Streets, which was funded by the Rabinowitz Foundation. The book describes his struggles as a Puerto Rican/Cuban born in the barrios of New York City and has been in print for 43 years. He never holds back about his experiences in life in the literary work. Thomas was addicted to heroin, joined gangs, and watched his father and mother fight over money. However, through it all he had a different view of what he wanted his life to look like and changed it for the better.
Piri Thomas was a major advocate for the Nuyorican Movement, and traveled all around the world giving lectures, and conducting workshops in educational facilities and universities. As an accomplished writer, he produced three more books during his lifetime. On October 17, 2011, Piri Thomas died at the age of 81 years young. The poet was married three times and had six children. He will always be remembered as the first Puerto Rican/Cuban poet to receive national recognition for his work and a performer who did not shy away from the crowd or the world.
My World… by Piri Thomas

My world is a world of creativeness, name it
whatever you want,
For my world is our world,
Of no more poverty or human indignity.
No more hot and cold running cockroaches and king-size rats,
Of horror, hunger, and pain running free…
View the film: Every Child is a Poet (——
Associate Editor; kYmberly Keeton
To learn more about this talented writer feel free to visit; Kreative Young Millionaire, Inc….
Need a website or blog? Head over to; Kym K Balance Network.