Book Review: TIMBUKTU…
(ThyBlackMan.com) As an African American future librarian and published writer, I believe that it is important to be exposed to all types of literature. Paul Auster is one of my favorite authors and is an American literary treasure. I was introduced and assigned to read his work in a post modern fiction class taught by, Dr. Lawrence Hogue, at The University of Houston.
I read Auster's, New York Trilogy, and became hooked to his writing style and storytelling capabilities through the written word. Paul Auster is a novelist, poet, translator, essayist, and filmmaker. When I decided to open TIMBUKTU, by the author, I knew that this was going to be another book housed in my library collection. Mr. Bones opens up the novel by describing his owner, Mr. William Gurevitch –aka- Willy G. Christmas. The dog's master was a poet and wanted to change the world. Willy is homeless and walks the streets with his faithful companion on a daily basis. The poet is ill throughout the novel and makes irrational decisions.
Willy G. Christmas is trying to get his life's work including 74 notebooks (that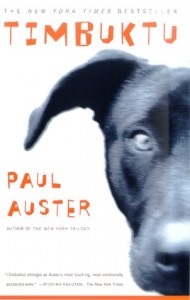 include epigrams, autobiographical musings, essays, and an epic in progress) housed in a locker at a bus terminal to his English teacher before he dies. The homeless poet once believed he could save the world from past memories of confessing his sins to Santa Claus on a television screen. As a result, Willy believes that the dog is his sacrifice to society. "In other words, Willy decided to turn himself into a saint," the book says.
The dog is no ordinary animal he is Willy's sidekick. He understands the English language and human emotions. In Auster's work he confronts abandonment and confrontational issues. In his novels, the bystanders have to deal with the protagonist's demons and they essentially become one. Mr. Bones realizes that his master is very sick while on their path. Even though Willy has not spoken to his teacher in seventeen years, he wants her to provide a home for his dog. They walked from Baltimore to Brooklyn to achieve Willy's quest. The story twists and turns as Willy goes in and out of memories of his mother, childhood, and the life he never possessed as an accomplished poet. Paul Auster is brilliant at creating characters that come in and out of real-life moments and then disappear. He does this again in TIMBUKTU.
Mr. Bones witnesses his master's demise one afternoon while trekking down a street. The dog says in the book, "He coughed once, then again, and then a third time before lapsing in to a prolonged seizure." The second time around the homeless man fell to the ground and was rushed to the hospital. He finally gets to see his beloved teacher before he dies, and the saga begins for Mr. Bones. Though cliché, a dog is a man's best friend.  Mr. Bones described this in rare detail as he visited suburban, urban, and rural streets of America.
Mr. Bones started to see his surroundings differently after walking the streets alone. He realized that even though Willy G. Christmas was thought of as a statistic in society, he had a heart, a mind, and cared about people and animals. Towards the end of the book, Mr. Bones was caught up in wanting what he knew was not real after being adopted by a middle-class family. Mr. Bones realized one day that his new owner's would eventually end up divorced, their young daughter was too busy to play with him, and a cat resided in the back yard too.
 After being left at a dog vacation-watch service, Mr. Bones became very ill. He decided it would be best to runaway, because he did not feel wanted or loved. The dog ended up at the edge of a hill close to a service road. Sick and not feeling well, he looked at all the cars driving by with no cares in the world. Mr. Bones decided to play an old game that he played when he was younger. The dog forgot about his troubles, and ran fast as he could, and hopped out in front of in-coming traffic. Mr. Bones never felt his death, and transitioned to where his master said was peaceful: TIMBUKTU.
Purchase book via Amazon; http://www.amazon.com/Timbuktu-Novel-Paul-Auster/dp/0312263996
This book is a must read!
Associate Editor; kYmberly Keeton
To learn more about this talented writer feel free to visit; Kreative Young Millionaire, Inc….
Need a website or blog? Head over to; Kym K Balance Network.