Jerry Sandusky, Michael Jackson denial of their evil deeds…
(ThyBlackMan.com "Jerry Sandusky's bizarre answer about young boys, reminded me of when @Toure asked R Kelly abt young girls," Jemele Hill tweeted after Bob Costas's disturbing interview with the accused pedophile.
In the R. Kelly interview, following the singer's acquittal on child pornography charges, Toure asked the question "Do you like teenage girls?" To which, the self-proclaimed Pied Piper of R&B responded, "When you say teenage, how old are we talking?"
Similarly, on Monday night, when Costas asked Sandusky if he was sexually attracted to young boys he responded "Am I sexually attracted to underage boys? And then paused before stumbling "I…I enjoy young people. I love to be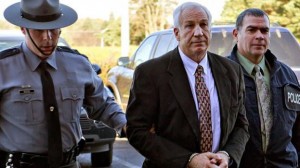 around them. I…I…But no, I'm not sexually attracted to young boys."
Even worse, Sandusky, who is accused of abusing at least eight young boys over a 15-year-period and reportedly under investigation for more, confirmed that, per former grad assistant Mike McQueary's grand jury testimonial that he saw Sandusky sexually assaulting a child in the showers at Penn State in 2002, he was in the shower with a young boy.
"I have horsed around with kids. I have showered with workouts. I have hugged them and I have touched their legs without intent of sexual contact," he told Costas, as he denied that he was a pedophile.
That response was eerily reminiscent of those given by Michael Jackson to British journalist Martin Bashir in 2003 for the special Living with Michael Jackson. In that interview, Jackson admitted that he often shared his bed with children in response to accusations that he had molested young boys. Jackson, like Sandusky, insisted that his actions were not sexual.
When he spoke with Ed Bradley about this on 60 Minutes that same year, Jackson did not back away from his statements. He told Bradley that he still felt that it was okay for him, a grown man over 40, to sleep in the same bed as a child.
Finish story over at; TheGrio – Jerry Sandusky, Michael Jackson Evil, etc.
Also follow TheGrio on Twitter; http://Twitter.com/TheGrio.
and Facebook; http://www.facebook.com/theGrio.