Herman Cain race an issue?
(ThyBlackMan.com) Republican presidential candidate Herman Cain is on fire these days. The former pizza mogul-turned-presidential hopeful scored an impressive first place showing in the recent Presidency 5 straw poll in Florida. Coming from the bottom of the heap of the GOP pack to number one is no easy feat. But people are asking whether his presence at the top is a fleeting and a mere flicker, or if Cain is in it for the long haul.
Moreover, despite his impressive showing, the prevailing wisdom suggests the race is still a match between Texas Governor Rick Perry and former Massachusetts Governor Mitt Romney for frontrunner status. Given his popularity, the question remains whether Herman Cain's race remains the impediment to his capturing the Republican nomination.
There is no question that Herman Cain is well-liked among the current GOP field, dubbed by the Washington Post as the "Miss Congeniality" of the party. A new Zogby poll puts Cain at the top with 28 percent, followed by Perry with 18 percent and Romney at 17 percent. While another recent Fox News poll places him at a still strong third place nationally. Michele Bachmann continues to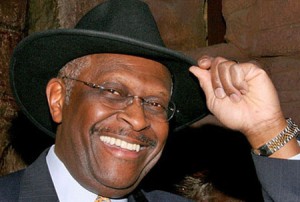 plummet, from a first place rating of 34 percent on June 30 to 4 percent now. These shifting fortunes suggest a softening of the field, questions concerning the electability of some candidates, and the voters' desire for alternatives to Perry and Romney.
"Folks, this is what you call momentum," Cain said recently of his fortunes in a campaign video message. "The Herman Cain train is picking up steam."
Herman Cain's popularity among the Tea Party is attributed to his bedrock conservative positions and his positioning as a consummate outsider lacking a Washington pedigree. His up-by-the-bootstraps narrative is appealing to the Republican base, as a man who grew up poor and rose through the corporate ranks to become the CEO of Godfather's Pizza. And he is a survivor of liver and colon cancer who was given a 30 percent chance to live.
"I'm a Tea Party guy, and there's a reason Mr. Cain is a Tea Party favorite. Unlike other Republican primary voters, the Tea Party is looking for very specific things from candidates, and Mr. Cain's 9-9-9 tax formula resonates with us," said Fred Pasek, a Cain supporter in the Baltimore Sun.
Under Cain's 9-9-9 plan, there would be a flat 9 percent income tax, a 9 percent corporate tax and a 9 percent national sales tax. The candidate says his tax overhaul "is a major step towards tearing the chains off the backs of the American people." The concept is simple enough to put on a bumper sticker, and conservatives are taking notice.
Herman Cain believes in reducing government, cutting entitlements, and eliminating "excessive" environmental and financial regulations. Further, he would repeal President Obama's health care reform in favor of free market approaches. And Cain has expressed a reluctance to include Muslims in his administration.
Finish story over at; TheGrio – Herman Cain, etc.
Also follow TheGrio on Twitter; http://Twitter.com/TheGrio.
and Facebook; http://www.facebook.com/theGrio.