kYmberly Keeton; Soulja Boy is Caught Up-In The Net Generation…
(ThyBlackMan.com) I was asked to write about DeAndre Cortez Way–aka- Soulja Boy. Something about the young rapper intrigued me, and I wanted to know why people disliked him so much after taking the assignment. I had to have some type of reference to make sense of this young man's success in music today—and how it has backfired. The history lesson in this article= the Net Generation. It is reiterated by author, Don Tapscott, numerous times in, "growing up digital: The Rise of the Net Generation." I will honestly say, I went to Soulja Boy's website, and listened to his new single, "Speakers Going Hammer." I turned it off very quickly and started reading his biography. At fourteen years young, Soulja Boy's rise to fame was unprecedented in the 21st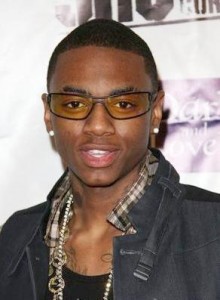 century. DeAndre Cortez was born on July 28, 1990.
Soulja Boy tapped into a new world that was not available to Generation X until 1995. Don Tapscott says in his book that what makes this generation different is, "It is the first to grow up surrounded by digital media." I can't knock DeAndre Cortez Way, and say that he wasn't on his grind as a teenager. He chose a profession at an early age, in entrepreneurship, and became successful. Nor can I argue that he did not do the unthinkable in 2007, by self-publishing his first single, and it becoming the #1 track on Billboard Hot 100 (single, Crank That") for seven weeks. Not to mention, Soulja Boy ranked #18, in 2010, on the Forbes list for earning seven million dollars that year. Moving forward, we are now in 2011, and technology has a following.
Maybe, we need to go back to listening to tapes on boom-boxes. I say this, because music has taken a downfall, along with technology. There has something to be said about this new force in our world today, and how it is perceived, marketed, and used in our community. Equally important, a young African American man [Soulja Boy] successful by society's standard, created a song about his country/its military/and law enforcement. It get's distributed through the internet, accumulates record sales, receives press, and then is banned from certain organizations and the internet. I am not saying that what Soulja Boy said, "F–k the FBI and the Army troops/ Fighting for what/ Be your own man," in his new video, "Let's Be Real," is right. –But, let's be real. Censorship plays a major factor in this equation. The First Amendment states that an individual has the right to say whatever–whenever he or she wants.
Yes, there should have been provisions to that amendment, in my opinion. In like manner, we all have a choice if we want to engage in his world. Gangster Rap's most celebrated group of all time, NWA's (Niggaz With Attitude) rap single, "F–k The Police," has over five million views on YouTube.  So again, where is the autonomy in Soulja Boy being condemned by what was created by society: Digital Media? Let's remember, there is 17% of the African American community in the United States unemployed, and can't afford to purchase music that Soulja Boy produces. Sometimes, I wonder why our culture embraces news that is not newsworthy.
Soulja Boy's verses–did hurt a lot of people. He apologized, and it has been reported that the "Let's Be Real," track has been taken off the market. In spite of, is Soulja Boy relevant in music? Is he fighting a war? Is he a mentor at the Boys & Girls Club? Is he using his money to help small black businesses  to keep their doors open? Are you doing any of the following? Why are we not asking these questions–if you really want to read some real news? Someone has to step back and look at the bigger picture. The Net Generation grew up with technology, and it's not going anywhere…I know that.
My hopes are that the Net Generation understand the meaning of the word net, because right now it looks like they are caught up in it.
Associate Editor; kYmberly Keeton
To learn more about this talented writer feel free to visit; Kreative Young Millionaire, Inc….
Need a website or blog? Head over to; Kym K Balance Network.