Studio 1034: Presents the Artwork of Lovie Olivia…
(ThyBlackMan.com) Studio 1034, based in Houston, Texas, will have the pleasure of featuring the artwork of Lovie Olivia, on September 24, 2011. Lovie Olivia is from Houston, Texas. Olivia's work has been shown at MOCHA-Museum of Cultural Arts Houston, Spacetaker, the Tipping Point, Arthello Beck Gallery, Catalina Coffee and Winterstreet Studios…
Artist Statement
ODD-I-SEE is a visual voyage, a mini-peek into my ongoing research of both materials and subjects that are common in my works.  With this particular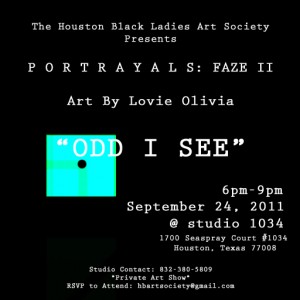 collection of images I am exploring codes of identity amongst African-American women and how we possess the necessary ability to be multi- dimensional in our SELF expressions.  ODD-I-SEE is inspired by the intricate design of the persons behind their "face-value". 
I am expressing my interest in layers and multidimensionality through the mediums of plaster frescos and sgrafitttos.  Put simply, I paint with pigment and ink on "semi-wet" plaster.  The plaster is applied to the board in several colors, designs and patterns to arrive at my visual inquiries. Fresco is to paint on wet plaster and sgrafitto is simply 'to scratch' into a surface. The word Graffiti derives from this word.  I find this to be a very challenging yet rewarding process.
[youtube ZTZaYRa9v4w]
If you are interested in attending this wonderful event that is free and open to the public on this Saturday. RSVP @ hbartsociety@gmail.com –Studio 1034 is located at1700 Seaspray Court #1034,Houston,Texas77008—Contact: (832) 883-9439
Associate Editor; kYmberly Keeton
To learn more about this talented writer feel free to visit; Kreative Young Millionaire, Inc….
Need a website or blog? Head over to; Kym K Balance Network.