Black Dad; Encourage a Love of Reading…
(ThyBlackMan.com) It's the middle of summer, and the school year is a distant memory for our children. It's fine to give them a few weeks to relax and enjoy other activities, but now may be a good time to try to instill a love for reading.
With a little planning and effort, we can get them into good reading habits — reading for pleasure, not because they're fulfilling an assignment. If we can help our kids learn to appreciate the wonder and satisfaction of getting lost in a good book, that can be a big and potentially life-changing accomplishment.
If you work out of the house full-time, you may need some help from their mother or a care provider, or you could organize organized in the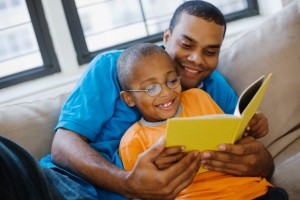 evenings. Maybe your school or local library has a reading program you could tap into. As a dad, make it one of your summer goals to encourage your kids to become enthusiastic readers.
One dad wrote to us about his approach: He bought timers for each of his kids and they recorded how many minutes they read each day. For each minute reading, they earned a minute of watching TV or playing video games. In his case, it really worked. His kids had the motivation to keep their nose in a book, and they often saved up their media time for the weekend, so they also learned about delayed gratification. They even got to count the time when Mom and Dad were reading with them, so that was an added bonus.
This idea might work for your kids, too. But the bigger point is that often it helps kids to have a motivation to read. Help them find interesting and age-appropriate books, and they might stumble onto a novel or a non-fiction book on a topic they really enjoy. Suddenly, they'll be reading for their own fulfillment. Your kids will probably keep their timers going, and that's fine. But beyond that, you will have given them a gift that will last a lifetime — not to mention the benefit to their educational achievement when school resumes.
Let your family members see you reading — a lot. Make it a habit to tell them about something you've been reading lately.

Especially with a young child, sit close (or place your child on your lap) as you read a book to him.

Read a current news article with your child and ask for her thoughts about it.

Set up a reward system for your children's reading accomplishments. It's worth some money to get them reading.

Offer to buy your child a subscription to a magazine about a subject or hobby that he or she enjoys.
So to all devoted dads take the time to read with your kid.
Via; http://Fathers.com